New Vauxhall Astra VXR Extreme makes its debut
Lightweight Vauxhall Astra VXR Extreme is the fastest and maddest street-legal Astra ever
Vauxhall has revealed its most powerful front-wheel-drive car ever at the Geneva Motor Show 2014. The Vauxhall Astra VXR Extreme uses a version of the current 2.0-litre turbo tuned to "over 296bhp". When they called it Extreme, they weren't kidding.
As with the standard Astra VXR hot hatch, this drives the front wheels through a six-speed manual box and limited-slip differential. However, race-spec adjustable dampers, uprated Brembo brakes and specially developed Hankook tyres are added on the Extreme model.
Wild! Nice bit of hot hatch action from Vauxhall! Astra VXR Extreme https://t.co/cXKXFM0WGs

— Steve Fowler (@SteveFowler) March 4, 2014
Vauxhall Astra VXR Extreme: weight saving
And although the performance figures make for a nice headline, the real progress has been made with a comprehensive weight-loss programme inspired by the Astra Cup racing car.
The Extreme gets a carbon fibre front splitter, bonnet, roof, rear wing and diffuser, while the front wings are made from aluminium instead of steel. Inside, the rear seats have been swapped for a rollcage. All this slashes 100kg from the standard VXR's 1,475kg kerbweight.
Wild! Nice bit of hot hatch action from Vauxhall! Astra VXR Extreme https://t.co/cXKXFM0WGs

— Steve Fowler (@SteveFowler) March 4, 2014
To ensure it looks the part, the picture shows that the Extreme shown at Geneva will feature a big carbon fibre rear wing (a carbon front splitter from the racer is also likely), quad exhausts and alloy and carbon fibre wheels shod with semi-slick Hankook tyres.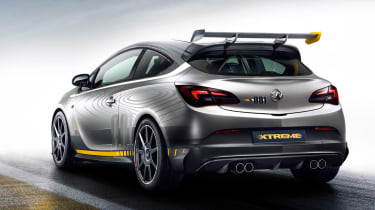 The show car also features the Opel Motorsport colour scheme. In Geneva, the car will be badged as the Opel Astra OPC Extreme. OPC stands for Opel Performance Centre, which is located right next to the Nurburgring Nordschleife. The car here is pictured in the pit lane of the Nurburgring Grand Prix circuit.
As with all sporty Opel/Vauxhall models, Vauxhall claims the Astra Extreme will be put through a 10,000km endurance sign-off programme at the 'Ring, before going on-sale
Vauxhall Astra VXR Extreme: price 
Prices are likely to be significantly more than the £26,995 Vauxhall charges for the Astra VXR. The Astra VXR can complete the 0-62mph dash in 5.9 seconds and hit 155mph flat out.
The Astra Extreme is the second time Vauxhall has had a go at a more hardcore Astra model. At the 2001 Geneva Motor Show, it showed the Astra OPC X-treme Concept, which looked a lot like the firm's DTM touring car racer, and was powered by a 444bhp 4.0-litre V8.
If the public reaction is positive, a low-volume production run is very likely to commemorate the 10th anniversary of the launch of the Vauxhall VXR brand.