Ford Focus RS Cosworth – Most Wanted Cars 2014
Next up in our Most Wanted Cars series is the Ford Focus RS Cosworth. Here's how it could look.
Everyone remembers the Ford Escort RS Cosworth, or 'Cossie', with its outrageous spoilers and rally-inspired 2.0-litre Cosworth turbo engine – but wouldn't it be great to see a Focus RS Cossie?
You certainly seem to think so with the Ford Focus RS Cosworth coming out as one of the top choices in our Most Wanted Cars feature. Our exclusive image gives you an idea of how a Focus RS Cosworth could look.
• Best hot hatchbacks to buy now
The Escort RS was first introduced in 1992 and could hit 60mph in just over six seconds. Everyone agreed it was great in the bends but the huge turbo took a while to spool up, making it feel a little slow at low revs. So Ford worked on a fix and in 1994 introduced a smaller turbo which cut power by 3bhp but ultimately improved the Cossie's drivability.
The Escort was eventually replaced by the Focus and in 2002, we got our first Focus RS – without the input of Cosworth this time. It was powered by a 2.0-litre turbocharged engine, producing 209bhp.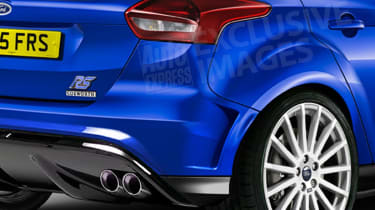 Compared with the standard Focus the RS was a serious overhaul, with Sachs dampers and Brembo brakes making up some of the changes over the standard car. The second-generation car arrived in 2009, boasting a turbocharged 2.5-litre five-cylinder, it could sprint from 0-62mph in 5.9 seconds and was fitted with special RevoKnuckle suspension to help prevent torque steer.
We know that Ford is working on a new third-generation Focus RS and a Cosworth version was easily one of our Most Wanted Cars when we asked readers which fantasy car they'd most like to see built.
As you can see from our exclusive image our Focus RS has got the all-important Cosworth badge and Escort-inspired double rear spoiler. We'd be expecting a 2.3-litre Ford EcoBoost engine under the bonnet with tuning by Cosworth. The standard RS is expected to hit 350bhp so we'd love to see the Cossie hitting close to 400bhp.
Yet there are mixed messages from Ford. "A faster Focus RS is planned and in testing, but we cannot confirm that Cosworth is involved at any stage of its development," a spokesman said.
Production chances: 4/5
Ford and Cosworth: history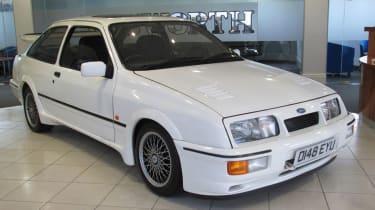 Cosworth is a performance engineering company founded in the late 1950s. It's core business is motorsport and the firm has accumulated close to 180 wins as a Formula One engine supplier, but it's also put its name to a number of road cars.
It's Cosworth's relationship with Ford that has rendered the brand a household name for fast road car fans. Ford built nearly 31,000 versions of the 1986 Ford Sierra RS Cosworth and over 7,000 examples of the Ford Escort RS Cosworth that launched in 1992. Cosworth also had a hand in other performance Ford models like the Ford Escort RS1600, RS1800 and RS2000 as well as the Ford Scorpio 2.9i 24v.
Don't forget to tell us what you think of the idea of a new Ford Focus RS Cosworth on Twitter, on Facebook or in the comments section below...
Auto Express Most Wanted Cars
1. MGB Roadster2. Lancia Delta Integrale3. Ford Capri4. Alfa Romeo Montreal5. Mazda RX-76. Ford Focus RS Cosworth7. Saab 9008. 'mini' MINI9. Volvo P180010. Citroen 2CV