Ford Capri – Most Wanted Cars 2014
The third instalment in our top 10 Most Wanted Cars 2014 is a new version of the iconic Ford Capri coupe. Here's how it could look…
The Capri developed a cult following from launch in 1969, and while it's not been made since the eighties, our Most Wanted poll shows it's still highly rated.
It started life as a fastback and was originally offered with a wide variety of engines, including the 3.0-litre V6. The 1974 Mk2 moved to a hatch body, and although sales slowly declined, by the time the last car rolled off the line in 1986, 1.8 million had been built.
Absence has made the heart grow fonder and there's periodic speculation that Ford may use the name on a new car. Our design shows how a new Capri could mix Ford's trademark grille with the swooping roofline which harks back to the original fastback. Things don't look good for a return of the fans' favourite, though, and the imminent UK launch of the new Mustang – in right-hand drive for the first time – won't help its chances. "At the current point there is no smaller coupe, Capri or otherwise, planned for the near future," a Ford spokesman explained.
Production chances: 1/5
Ford Capri: the history (1969 - 1986)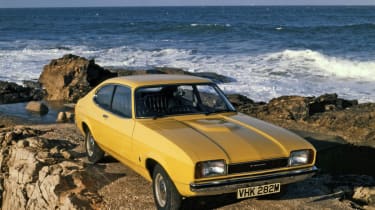 Dubbed "the car you always promised yourself", the Capri offered customers varying blends of performance and economy thanks to a wide choice of engines, ranging from a four-cylinder 1.3-litre to the range-topping 3.0-litre V6
Fastback styling eventually gave way to a slightly more practical hatchback body with the launch of the Mk II Capri in 1974, and although this did nothing to spoil the eye-catching looks, sales gradually began to decline.
In October 1976, all manufacturing transferred to Germany, although the car continued to be sold in the UK. Such was its popularity over here that from late 1984 onwards, even though sales on the continent wound up, Ford continued to offer the Capri in Britain.
The end was in sight though and after three generations and over 1.8 million cars built, production of the front-engine, rear-wheel drive sports car eventually ceased in 1986.
Don't forget to tell us what you think of the idea of a new Ford Capri on Twitter, on Facebook or in the comments section below...
Auto Express Most Wanted Cars
1. MGB Roadster2. Lancia Delta Integrale3. Ford Capri4. Alfa Romeo Montreal5. Mazda RX-76. Ford Focus RS Cosworth7. Saab 9008. 'mini' MINI9. Volvo P180010. Citroen 2CV