New Saab 900 – Most Wanted Cars 2014
Our readers picked a new version of the Saab 900 as one of the Fantasy cars they'd most like to see built. Here's how it could look…
The Saab 900 is one of the ill-fated Swedish brand's most recognizable designs – particularly the three-door version. It's a shame that Saab as we know it is no more, because it was the kind of design savvy and technical innovation present in the 900 that led to Saab becoming a realistic alternative to the German brands.
Auto Express readers would love to see the Saab 900 make a comeback, that's why they picked it as one of the star cars in our Most Wanted Cars 2014 feature. Our exclusive image gives you an idea of how a new 900 could look.
The 900 was introduced in 1978 and Saab said there were plenty of nods to its aircraft manufacturing heritage in the car's design, including the curved windscreen and dashboard.
It was available with a variety of engines throughout its life, ranging from a 99bhp 2.0-litre, right up to a 185bhp Carlsson engine. The first 900 ran right up until 1994, when the second-generation model was introduced riding on the Vauxhall Vectra platform.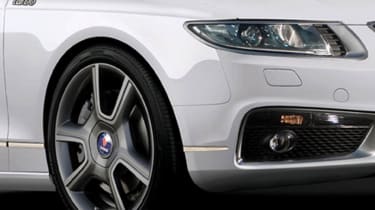 One of the most memorable 900 features was the Sensonic gearbox, which worked exactly like a manual but without a clutch pedal. The second-gen 900 also featured the Night Panel system, which blacked out all but the most important driver information to allow drivers to concentrate on the road.
If it were to be resurrected, an all-new 900 could borrow a platform from the stillborn 9-3 that Saab was working on right up until the day it went bankrupt.
In terms of keeping technical innovation part of its appeal, Saab was known to be working on a four-wheel-drive hybrid system for its future models and the 900 would be a perfect fit for that. A 2.0-litre BMW engine for the front wheels and electric motors for the rears would make most sense but at the moment we fear that a new 900 looks like an extremely long shot.
Production chances: 0/5
Saab 900 (1978 - 1998): history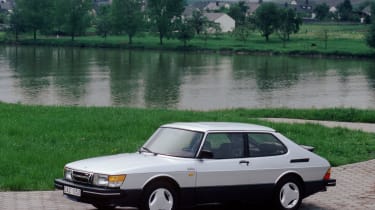 The 900's twenty-year lifecycle saw it offered as a two and four-door saloon, a three and five-door hatchback and as a convertible. It was launched in 1978 packing a host of unorthodox design features. The top-spec Turbo model offered 143bhp for brisk performance.
The Vauxhall Vectra-based second generation 900 arrived in 1994 with heavily reworked styling and the clever Sensonic clutchless transmission for the Turbo models that were now packing 182bhp. The 900 was replaced by the 9-3, which also used Vectra underpinnings, in 1998.
Don't forget to tell us what you think of the idea of a new Saab 900 on Twitter, on Facebook or in the comments section below...
Auto Express Most Wanted Cars
1. MGB Roadster2. Lancia Delta Integrale3. Ford Capri4. Alfa Romeo Montreal5. Mazda RX-76. Ford Focus RS Cosworth7. Saab 9008. 'mini' MINI9. Volvo P180010. Citroen 2CV