New Citroen 2CV - Most Wanted Cars 2014
The Citroen 2CV is a motoring icon but our readers would love to see an update on the 1940s classic design. Here's how it could look...
Citroen's classic "deux chevaux" is one of the most recognisable car designs in history but Auto Express readers think it could do with a refresh for the modern age. A new Citroen 2CV was one of the Most Wanted Cars when we asked users which fantasy car they'd most like to see built.
Few cars have enjoyed the longevity of the original 2CV, which remained in production for 42 years and spanned six decades. Despite being one of the oldest cars on our Most Wanted Cars top 10 list, it also seems to have come closer to a return than almost any other model under consideration.
• VOTE NOW for your Most Wanted Car 2014
In 2009, Citroen unveiled its Revolte concept at the Frankfurt Motor Show, and for a time it appeared the CV2 would be reborn as an entry-level DS model. The French manufacturer did little to dampen speculation, with Revolte creator Carlos Bonzanigo telling Auto Express at the time: "I can't deny or confirm these rumours, but the fact that it sits on a production car platform should tell you something."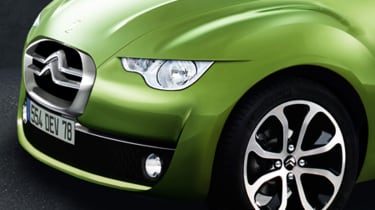 Sadly, the DS2 Revolte is yet to reach production, but the concept proves Citroen has all the tools at its disposal should a decision be made to expand the luxury sub-brand. If it sits on the DS3's platform, short overhangs will give it a compact appearance, emphasised by squat 2CV-inspired wheel-arches.
As you can see, our exclusive illustration also features an updated take on the iconic curved roofline that would surely appear in some form, almost certainly as both a hardtop and cabriolet.
While it's hard to know for certain whether the project will become a reality, recent developments in the way PSA Peugeot Citroen is structured could work in its favour. Given Citroen CEO Frederic Banzet recently revealed plans to further differential the Citroen and DS brands in Europe, it's possible the DS2 Revolte could feature as part of an expanded six-strong model range.
Unfortunately for fans of the original, the Group is also keen to reduce crossover between its line-ups, so the DS2 Revolte would most likely join the new MINI in moving away from its cheap and cheerful roots.
"Absolutely no current plans for a 2CV whatsoever," said a Citroen spokesman. But our columnist Mike Rutherford has been told otherwise.
Production chances: 2/5
Citroen 2CV (1948 – 1990): history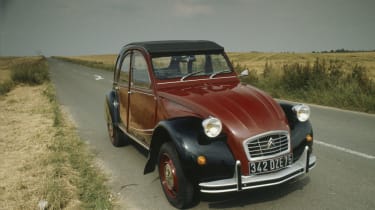 The Citroen 2CV was a small, affordable but famously durable car designed to tempt French farmers out of their preferred horses and carts before the Second World War.
Research into expanding the French market for economy cars was being carried out by Citroen's owners Michelin as far back as 1922 and eventually resulted in the famous 2CV design brief. This specified that the car, amongst other things, should be able to drive across a ploughed field while carrying eggs without breaking any.
Citroen 2CV prototypes were built in 1937 and 1939 but the outbreak of war in Europe halted proceedings until 1948 when the car first entered production. Over the forthcoming years, the 2CV's simple design would spawn a vast array of different models and special edition versions. The car received regular trim and tech updates as time went by but it always remained true to the original design, gaining a strong cult following in its later years.
The 2CV was built for a total of 42 years before finally falling victim to the demands of modern safety legislation in 1990 when the last remaining production line in Portugal closed. In total, just under 3.9m Citroen 2CVs were produced and many are still on the road today.
Don't forget to tell us what you think of the idea of a new Citroen 2CV on Twitter, on Facebook or in the comments section below...
Auto Express Most Wanted Cars
1. MGB Roadster2. Lancia Delta Integrale3. Ford Capri4. Alfa Romeo Montreal5. Mazda RX-76. Ford Focus RS Cosworth7. Saab 9008. 'mini' MINI9. Volvo P180010. Citroen 2CV