Volvo P1800 – Most Wanted Cars 2014
Part two in our top 10 Most Wanted Cars is a new Volvo P1800 coupe. This is how it could look…
The Volvo P1800 remains one of the most stylish cars Volvo has ever made and when we asked readers which fantasy cars they most wanted to see built, a modern take on the Volvo P1800 was a hot favourite.
Best known for its prominent role in the TV series The Saint, the Volvo P1800 is one of the Swedish manufacturer's most famous and elegant designs.
• Best coupes - New Car Awards 2014
Launched in 1961, production of the P1800 lasted 12 years during which time almost 50,000 models had been sold. The first models to roll off the production line were powered by a 1,800cc engine – hence the name ­– producing around 100bhp, sending power to the road via a four-speed manual gearbox.
From 1961 the P1800 was actually assembled at Jensen Motors' plant in West Bromwich, West Midlands, until 1962 when production was switched to Sweden. Volvo claimed the move was to try and boost sales but owners of earlier models believe it was in fact down to quality issues.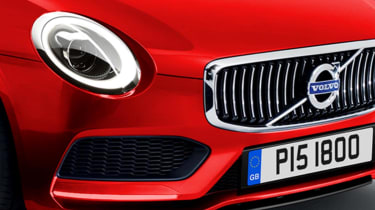 The success and influence of the P1800 can still be seen in modern day Volvos. The latest Volvo Coupe Concept unveiled at the Frankfurt Motor Show in September last year, drew heavily on Volvo's heritage and in particular the P1800. The chrome grille and front splitter on the concept are cues clearly taken from the sixties coupe.
Rather than create a P1800 influenced model, our exclusive image shows a direct successor to the coupe. All of the classic lines and features from the original remain, such as the circular headlights and swooping rear end.
"A GT coupe is entirely possible," said a spokesman for Volvo. "Our new scaleable platform could be adapted for a coupe."
Production chances: 4/5
Volvo P1800 (1961 – 1973): the history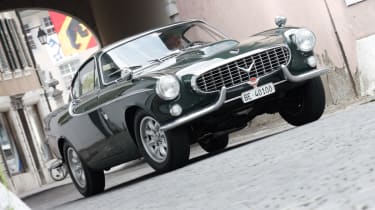 Has Volvo ever built a better-looking car than the P1800? The Pelle Petterson designed machine is certainly a front-runner in the Swedish manufacturer's style stakes.
The curvy two-door coupe with its trademark chrome swoosh connecting headlights with side window line is a design tour de force that Volvo is still trying to emulate today with cars like the Concept Coupe.
It was built in the UK by Jensen Motors until 1962 when production moved to Gothenburg in Sweden. Just under 40,000 P1800 coupes were produced in total including the one Roger Moore made famous in The Saint TV show. There were also 8,000 estates.
The P1800 arrived in 1961 appropriately powered by an 1,800cc 100hp engine developed from a V8 unit found in Volvo trucks at the time. More power arrived in the shape of the P1800S in 1963 (115bhp) and the P1800E in 1970 (130bhp). The P1800ES was a striking shooting brake estate version launched in 1972.
Don't forget to tell us what you think of the idea of a new Volvo P1800 on Twitter, on Facebook or in the comments section below...
Auto Express Most Wanted Cars
1. MGB Roadster2. Lancia Delta Integrale3. Ford Capri4. Alfa Romeo Montreal5. Mazda RX-76. Ford Focus RS Cosworth7. Saab 9008. 'mini' MINI9. Volvo P180010. Citroen 2CV