'JLR's growth is an unprecedented breakthrough for UK PLC'
Global car production and sales have skyrocketed, with Jaguar Land Rover doing particularly well for Britain, says Mike Rutherford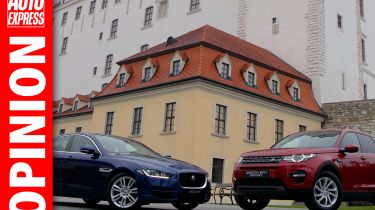 Seems improbable, but it's absolutely true – global vehicle production has rocketed by around 50 per cent over the last six years. In 2009, just under 62 million were built, and although official numbers for 2015 won't be available for another few weeks, I understand they'll burst through the 90 million barrier for the first time, with just over half of those cars and 4x4s (plus a comparatively tiny number of commercial vehicles) built in five countries – China, the US, Japan, Germany and South Korea. 
One way or another, the overwhelming majority of those vehicles built last year were bought and registered – even if some less desirable manufacturers were more forced to almost give away vehicles by knocking them out at cost price or less.
• 'Hyundai is great at selling cars, but it has to appeal to the heart too'
Around 15 million vehicles were bought in Europe (almost 3m of those in the UK), while sales in the US exceeded 17m, and Chinese consumers snapped up circa 25m.
However, due to short-sighted and unfathomable new taxes on tiny urban cars in Japan, sales in the land of the rising sun inevitably slumped. Political issues in Russia also caused sales to plummet to less than 1m.
Closer to home, buyers in Portugal, Spain and Ireland bought 20-30 per cent more cars, while the Renault brand celebrated major success in 2015, becoming the third best-selling marque in Europe, with almost 1m registrations. Sister company Dacia also did astonishingly well across Europe, selling nearly 400,000 cars, beating the increasingly expensive Korean Kia range and similarly priced Japanese manufacturers.
• 'We push MPs for change on MPG and emissions tests'
Thanks to its bargain Renegade SUV, Jeep pressed the right buttons for value-seekers across the world, and was rewarded with a sales increase of more than 100 per cent in some regions, the UK included. Arguably, the fastest-growing manufacturing group last year was Jaguar Land Rover, with sales up by more than 25 per cent. That's a great and unprecedented breakthrough for the England-based company and UK PLC as a whole.
But it was the scandalous, crisis-hit firm with alleged 'cheating' tendencies that had the last laugh. Official sales numbers show that the most in-demand cars in Europe last year were, by far, er, VW-badged.
The Golf, Polo and Passat were, respectively, the first, third and 12th best sellers. After the embarrassment of 2015, the boys in the boardroom at Wolfsburg must now be asking themselves: Crisis? What crisis?
What do you think about Mike's findings? Let us know in the comments?