"EU member or not, Britain's car industry is in rude health"
Whether we vote in or out of the EU, Mike Rutherford reckons the car industry has nothing to worry about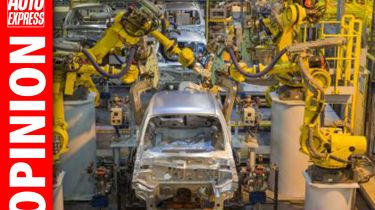 Dropped in on Switzerland last week. I recommend you do the same.
The Salon de l'Auto runs until 13 March, and while it's not quite the greatest car show on earth, it's certainly the best in Europe, even though it's out of it - a status Britain will adopt should we vote to leave this summer.
The Swiss border is a mere 420 miles from our most southerly shore; some residents of England are nearly 800 miles from those in northern Scotland. And the Brits and Swiss might get closer still if we become members of the exclusive Out Of It Club that occupies European soil while separating itself from the European Union, the Euro currency and judges in Brussels. Who'd have thought it? Maverick Britain and neutral Switzerland teaming up as non-EU nations? It's possible.
• All the news from Geneva 2016
On car-related matters, Switzerland seems to be doing itself no harm by being within but outside Europe; it does motor shows better and more frequently than established car producing European nations. To the industry establishment, it doesn't seem to matter whether the Swiss are in or out of the EU.
I suspect, deep down, much of the industry isn't as passionate as you might think. Only a small segment of it is owned by European firms such as BMW and VW. The bulk of the production in Britain is down to the Japanese, plus the Indians. Last time I looked, Japan and India were in Asia, not the EU.
True, when asked, most car and component-making members of the Society of Motor Manufacturers and Traders (SMMT) have said they'd rather be in than out. Seperately, Jim Farley, Ford Europe and Middle East boss, told Auto Express that "his company supports the British PM's approach to negotiate and stay in Europe. It would be a bad thing for our business [if the UK were to leave the EU]". With respect, Ford doesn't build vehicles in Britain these days, having closed its car production lines in Dagenham and the Transit plant at Southampton.
It's inconcievable firms would close factories if Britain exits the EU. I've pushed Nissan but it hasn't even hinted it'd mothball of export plants and Toyota confirmed it'd stay in the UK "whatever happens".
Can you really imagine Tata of India closing its JLR HQ and production lines in the Midlands, just because we voted to leave? It won't happen. EU member or not, Britain's car industry is in the rudest of health - and will stay that way no matter which way the vote goes.
Do you agree with Mike? Let us know in the comments below...