How China is shaping the future of the car industry
Steve Fowler meets some of the top bosses in the business at the Beijing Motor Show to find out how China is shaping the industry
Aston Martin
Andy Palmer: President and CEO
Aston sales in China are relatively small at 200 a year, but the potential for growth is huge, especially with the new DBX crossover. "If we want to go beyond 300 or 400 cars here, you have to do something special – you have to do an SUV," Palmer told us. "I believe if you speak to the people at Bentley, they'll tell you they did Bentayga for China, and that's true of us as well. DBX could possibly not exist without China."
• Aston Martin DBX: Latest details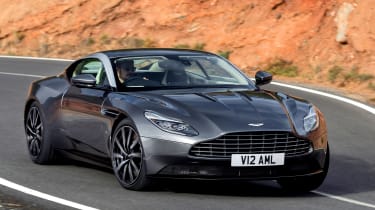 Chinese Aston buyers are also different to European buyers, as Palmer explained: "The sports car buyer is much younger than in Europe. They tend to be a single child and have access to money earlier, and there's a greater propensity among women to buy sports cars – the Rapide in particular, which is 60 per cent of our sales here."
Audi
Rupert Stadler: CEO 
Audi is at the forefront of the connectivity charge, driven by Chinese buyers, as Rupert Stadler revealed: "We see that the Chinese customers, especially the young customers, are techies – more so than Europeans."
"They play, they game, they act in a connected world. You only have to see young customers play round in the car.  They don't read any manuals, they just test it!"
As with other makers, the age of Audi's Chinese buyers is different to elsewhere.
"Here the average age of our customers is 34, in the US it's about 40 and in Europe the average is around 50," Stadler told us. 
Bentley
Wolfgang Durheimer: CEO 
Wolfgang Durheimer has been travelling to China for the past 25 years. "Back then, the roads were roady, but they were full of scooters and bicycles, with some cars sneaking through," he told us. "Now it's all cars, minibuses, trucks and electrified scooters."
"Now we see a constant desire for people to demonstrate that they've made it. To have a Bentley is something that's desirable.."
"Chinese customers like the extraordinary side of our business – our cars are very special. One of the best expressions is in the Bentayga with the woodwork on the passenger side where we have an intricate veneer; the craftsmanship and detail are things the Chinese market likes."
• Bentley Bentayga vs Range Rover
China is pushing hard to adopt electric cars, which will affect us all, as Durheimer explained: "What I've experienced in the last 25 years in China is a tremendous story. Right now we see rigid enforced change, especially relating to powertrains, by central government due to air quality. This is why technology will change – look at what's happened with the scooters."
Citroen
Linda Jackson: CEO
Sabine Scheunert: Director, Citroen China 
Citroen launched the China-only C6 saloon in Beijing, but the future is more international with a range of global models in the offing, as CEO Linda Jackson and Sabine Scheunert, director of Citroen in China, told us.
• Citroen C6 unveiled in Beijing
Jackson said: "Our core model strategy is about international multi-regional silhouettes. Rather than say we're going to design it all in Europe or China, we look for the biggest opportunity. So with the C6, the biggest opportunity for us is here in China. Hence we developed it in the Shanghai design studio."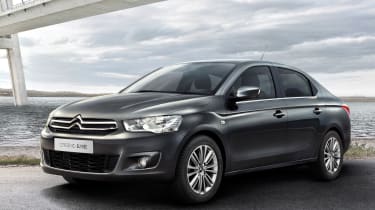 "Whereas five or so years ago you had different vehicles between China and Europe and the Chinese market accepted these cars, you now have more and more manufacturers – us included – looking to China and saying the vehicles are so similar now people are wanting the same sort of things."
Partnership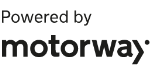 Need to sell your car?
Find your best offer from over 5,000+ dealers. It's that easy.
"So we don't produce a Chinese vehicle, we don't produce a European vehicle, what we try to do is produce an international vehicle, and the SUV is popular in Europe and China; the trends are becoming closer."
While the C6 was Citroen's Beijing show star, a crossover is starring in showrooms, as Sabine Scheunert explained: "We are known for our sedans in China and we're seen as a more traditional brand. But we launched the C3XR [crossover] last year and it's been a tremendous success – one month we even sold 10,000 of them."
"It is today our hero model – we're gaining more and more customers because of this concept. The brand is about to change, I think customers are taking what they know from Europe and China is also changing a lot."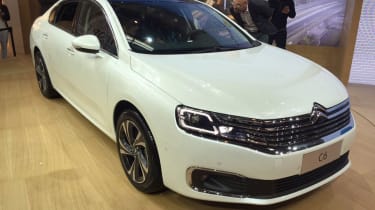 "Customers are more open to change than they were five years ago and they want to take the same products that they see across the world, particularly from France."
Demand for electric cars is also making Citroen press on with its EV plans, as Jackson told us: "The acceptance of electric cars in China is exactly why we've launched the E-Elysee here. It'll be on sale by 2017 with a range of 250km. We're able to accelerate this in China because of demand and legislation, but it'll be 2019 to 2020 before we get electrification into the core range in Europe."
Geely
Peter Horbury: Senior vice-president of design 
Horbury has a different view to many others. He's a Brit heading up design for Chinese maker Geely, which is coming to the UK within the next two years.
"China's doing what it took Europe and America almost 100 years to do in about 20," he told us. "And it's moving still at the same pace – it didn't just catch up, it's caught up and is passing, I think. The demand for new, for good, for better, for best, it's happening so fast you really notice it. At Geely we had good cars that were locally acceptable. Now we want to make them globally desirable."
Horbury's also keen to ensure Geely's cars retain their Chinese heritage. "We've already started using details – all our speaker grilles have a very Chinese pattern," he explained. "The way we do some of the lines on the interior, rather than using a marker, if you take a calligraphy brush and do the same line it'll vary in thickness and feather out to a point. That's what you'll notice – not putting a pagoda roof on the first car we design, but these details that come from Chinese art and architecture give us a little signature."
Jaguar
Ian Callum: Director of design
Jaguar launched a long-wheelbase XF in Beijing, but Ian Callum was quick to point out he's not designing cars just for China. "You have to understand the markets," he said. "But you have to create a car for the brand – that's what people are buying into, wherever they are."
Still, the Chinese market does have an impact. "We were conscious that the F-Pace, in our two biggest markets – China and America – as a smallish vehicle had to have enough room for three full-size adults in the back and a decent amount of luggage," he added.
"In many ways that did determine the size of the car. If we did the car just for Europe, it might be smaller. [Plus] when we look at the colour palette we have to ensure there are at least two colours that work well in the Chinese market, specifically dark red and gold."
What do you think the future holds for brands in China? Let us know in the comments below...