Honda NSX EV Concept to race at Pikes Peak
New all-electric Honda NSX race car is set to compete at famous Pikes Peak hill climb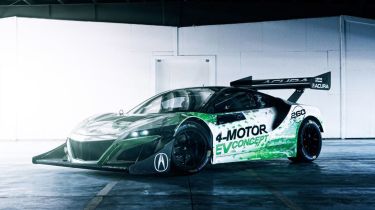 This all-electric Honda NSX EV Concept will race at this year's Pikes Peak hill climb, with the race car getting a four-motor 4x4 system, with an electric motor at each wheel. Honda calls the powertrain "Super Handling All-Wheel Drive", and it will help the car compete in the Electric Modified Class.
It follows a class win last year by driver Tetsuya Yamano in an electric CR-Z - but this time, he will be piloting the NSX with three times the power output. However, there's no indication on what the power output actually is.
The four-motor system means Honda's engineers can work with independent torque distribution, which means power can be sent to any of the wheels. Torque vectoring tech is applied, so the outer wheels can rotate faster around a corner - increasing the cornering speed.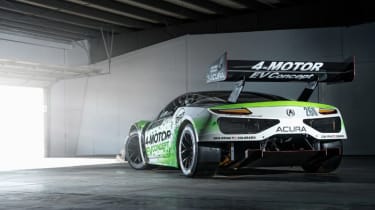 The Pikes Peak hill climb is a 12.42-mile course going up the Pikes Peak mountain in Colorado, USA. The electric modified class is part of the event's ethos to "demonstrate advancements in the practical application of motor sports technology," along with the electric non-modified class that showcases production variants.
The NSX EV concept is built to take on the demanding Pikes Peak run, with its huge aero kit, including that gigantic rear wing. The Acura branding on the livery reflects Honda's upmarket brand in the US, which Honda is selling the NSX under in that market.
What do you think of the Honda NSX Pikes Peak challenger? Let us know below...