World's most fuel efficient car hits '31,000mpg' for new record
Electric-powered TUfast eLi14 can travel 710 miles on just a single kWh of energy, equivalent to 31,000mpg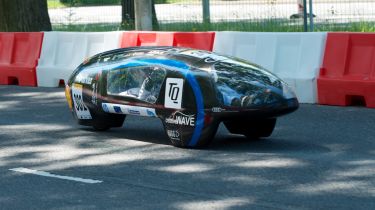 Though there are plenty of cars out there with outstanding fuel economy, a team from the Technical University of Munich has produced a vehicle which makes even the 94mpg Peugeot 208 look like a gas-guzzler. The TUfast eLi14 recently took to the track at Audi's test facility, and managed to set a run with energy use of 710mi/kWh.
It gets better, though, as on their second run the team managed 765.53mi/kWh, a new world record. For perspective, if that was converted to petrol power, the eLi14 could travel 11,000km on just a single litre of fuel – the equivalent of driving to Tokyo with miles to spare. Or to put it an even easier way, it's a staggering 31,000mpg.
The eLi14 was originally created for the 2014 Shell Eco Marathon, where it posted a good (though not record-breaking) performance, but for this record attempt it was upgraded. In search of more efficiency, the TUfast team upgraded the motor with a custom controller, silver wire coils, and ultra-low friction bearings for the custom wheels.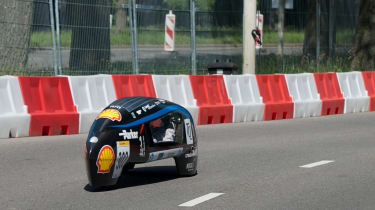 The TUfast team is made up of students from the Technical University of Munich, who compete in the Shell Eco Marathon every year. eLi14 isn't even the team's most recent vehicle – it's the fourth of six ultra-eco cars that the students have created over the years.
As you might expect from something that could go for almost 15 miles on a single AA battery, it's not exactly your standard road car. It's a tiny single-seater, teardrop-shaped three-wheeler, piloted by someone small enough to fit into the cramped cockpit. Once shoehorned inside they have to drive in a lying-down position. It's not designed to mix with normal traffic.
Though we shouldn't expect to see cars like this on the road anytime soon, it certainly shows a very energy-efficient future.
How economical is your car? Let us know in the comments below...