New survey names and shames the rudest drivers in the country
UK's most badly behaved motorists outed in new report, with Bristol drivers the worst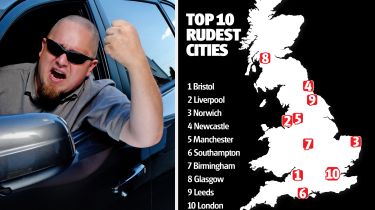 Britain's rudest drivers have been named, with Bristol topping the chart ahead of Liverpool and Norwich. Bristol was rated worst for motorists using a mobile phone, speeding, not indicating and swerving across lanes, according to research by Privilege Car Insurance.
Other offences noted included pulling out in front of other drivers, taking up too much space on the road, blaring horns unnecessarily and splashing pedestrians with puddles. Although rated as the rudest, Bristolians were most prepared to own up to their bad driving habits, with 61 per cent admitting poor road manners. In comparison, only 56 per cent of Londoners and Liverpudlians said they drove selfishly.
• UK dangerous driving laws to get tougher, hints PM
Nationally, mobile phone use was the top rated offence, followed by failing to indicate and speeding. And despite Brits' infamous love of queuing, that doesn't translate to the road, with nearly half of motorists admitting to skipping lanes to get ahead of queues on motorways and pulling out in front of other motorists.
Women over 55 were considered to be the rudest in several areas including being in the wrong lane and driving too slowly. Men, meanwhile, were found to cut corners, undertake and drive down the middle of the road.
Charlotte Fielding, head of Privilege Car Insurance, said: "Inconsiderate or careless driving are two of the main causes of accidents on our roads.
• Sharp rise in number of drivers with 12 points escaping bans
"Hopefully, the findings of this report will help remind people their actions on the road do have an impact on other drivers – it's better to get there safely than risk injuring yourself or someone else. So take a deep breath, leave a safe distance between your vehicle and the car in front and drive at a safe speed."
Which city do you think has the rudest drivers? Let us know below...