"Congestion could cost the UK £307bn, so how about a ruralisation programme?"
Mike Rutherford looks at the UK's growing congestion problems, and he thinks he has the solution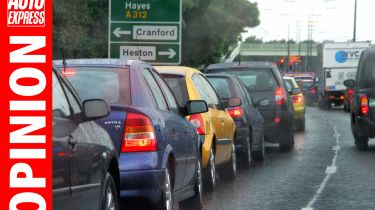 The congestion problem is big, and getting bigger. In 1960, 41 million folk lived in Britain's urban areas. Today, 54 million or more are considered urbanites. Most are adults with cars, using city road networks – that won't be growing at the same rate.
This over-crowding nightmare we've generated for ourselves will worsen. The rural/urban exodus is continuing. No wonder estimates say congestion could cost the UK £307bn over the next decade or so.
The UK Government can at least encourage firms and individuals to vacate the traffic-choked conurbations that have reached breaking point. How about a Revolutionary Ruralisation Programme, starting with a transfer of its admin staff to Ruraldom? Big charities, banks and research centres should do the same.
• London is Europe's worst city for traffic congestion
Also, the Government will, post-Brexit, be free to subsidise relocation to rural regions where roads are often under-utilised, commercial and residential properties are considerably cheaper, and space isn't an issue. Can't afford to drive and buy a house in London, where parking can cost £5 an hour, there are waiting lists of up to 50 years for council homes, and a single private house can cost up to £55m? Consider Norfolk! Or a self-contained Scottish island for just £1.95m.
To be fair, the motor industry is keener than most on the much-needed urban to rural switch. Toyota USA is moving from gridlocked Greater LA to the quieter and more productive Texas region. Subaru of America is questioning whether it needs to be on the doorstep of over-populated Metro New York. And Hyundai wants its factories out of Seoul, which houses the majority of South Koreans – and their cars.
• "Britain is unproductive? I don't believe it for a second"
Honda UK's regional base is now in comparatively traffic-free Bracknell, Berkshire. BMW GB is in Farnborough, Hampshire, and Aston Martin sensibly opted for the comparatively deserted Wales to build its newest factory. But does Ford need its Dagenham engine plant workers contributing to London's traffic mayhem? The same could be asked of Nissan/Infiniti designers in Paddington, and Caterham employees who build cars on the Greater London border.
Perhaps some of us should be forced to move. I'd put office-based civil servants at the head of the queue. They can swap their views of the Thames for equally interesting views of the green and pleasant countryside.  
Do you agree with Mike? Let us know in the comments section below...