UK's first free, impartial garage Motor Ombudsman service launched
Official Motor Ombudsman dispute resolution service replaces Motor Codes, with decisions binding for member garages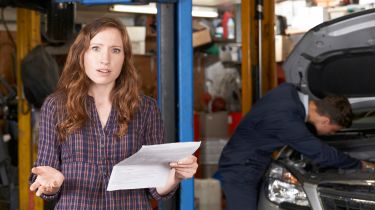 A new free service to help consumers resolve disputes with garages and manufacturers has been launched – the first of its kind for the motoring industry.
The Motor Ombudsman becomes the official automotive dispute resolution body, protecting car owners and holding to account businesses signed up to its Codes of Practice.
The new impartial body replaces the Motor Codes name after 12 months of work to meet official requirements and provides consumers with a single place to take grievances. Its decision is binding on the businesses should the customer agree. However, if the ruling isn't accepted, the consumer is free to take the case to court.
• Buying a used car: your complete guide
Car rejection cases and poorly repaired vehicles are just some of the issues the new ombudsman can deal with should the owner be unable to resolve the issue with the garage in question after an eight-week period.
In order to use the free service, the garage or dealer must be signed up to the Codes of Practice operated by The Motor Ombudsman. This includes most main dealer groups and covers 99 per cent of all new cars sold in the UK.
• Car clocking: is mileage correction legal?
The new service is expected to receive 30,000 enquiries per year with around 1,000 cases taken on. Bill Fennell, chief ombudsman and managing director of The Motor Ombudsman, said: "Dependency on cars is growing, cars are getting smarter and people don't understand why their cars are not fixed or break down.
"With all this in the background we are there to try and help. The Motor Ombudsman gives consumers better protection."
How the new Motor Ombudsman can help buyers
It's all in one
This is the first time there will be a single independent body for motorists to take any grievances to.
It covers the lot
A huge 99 per cent of new cars sold in the UK will be eligible for referral to The Motor Ombudsman.
It's quick
Simple cases could be resolved in just five days. Even complicated cases will take just a few weeks to sort.
It's totally free
The service is completely free, potentially saving motorists thousands in legal fees to resolve cases.
It's binding
If the consumer accepts an Ombudsman decision, the garage is obliged to stand by the ruling.
What do you think of the new Motor Ombudsman? Let us know below...