"Under-appreciated Lewis Hamilton deserves our respect"
Hamilton has a tendency to polarise opinion, but has enough talent to potentially be Britain's greatest ever driver, says Graham Hope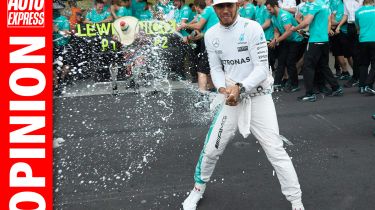 On Sunday, Lewis Hamilton will be bidding for his third straight Formula One drivers' championship and fourth in total. It's the kind of consistent success that our country has only ever fleetingly enjoyed in elite-level motorsport.
Some will be excited by this prospect; there will be others, though, who are ambivalent and even some fervently hoping that Mercedes team-mate Nico Rosberg holds his nerve to claim his first title. Strange isn't it? It's certainly a far cry from the eighties, when it seemed like the entire nation was behind Nigel Mansell as 'Our Nige' scaled the heights of F1.
• "Motorsport should be in the Olympics"
Part of the problem has been caused by the sport itself. With only some races now broadcast live on terrestrial TV, it has willingly reduced its exposure to the majority of the population. The net result of this, I think, is that our F1 drivers are not quite the national heroes they were two or three decades ago.
And then there is the thorny issue of Lewis himself, who – let's be kind here – has a tendency to polarise opinion. With his childish antics on social media, tax-exile status, on-off celebrity girlfriends, plans to release an R&B album, occasionally petulant outbursts and increasingly flamboyant appearance, he's not your average racer by any means.
• "Forget F1 - Rallycross is the most exciting motorsport out there"
But does all that baggage really matter? I don't think so. What really counts is his ability behind the wheel, and as he has shown time and time again he possesses the kind of talent that I think marks him down as one of the very finest champions F1 has seen, and quite probably Britain's greatest ever driver.
Even if he doesn't win on Sunday – and it does look a bit of a long shot – nobody can seriously argue about his status as an all-time great. I, for one, will be backing him all the way, and the rest of the country should be, too. Talents like Lewis come along very rarely and it's time we realised how lucky we are to have him.
Are you behind Hamilton, or are you secretly hoping his chances are dashed at the final hurdle? Leave us a comment below...