'Lower drink-drive limits really do have a positive effect'
Scotland's lower drink-drive limit compared to England and Wales is more of a success than just crime statistics, says Graham Hope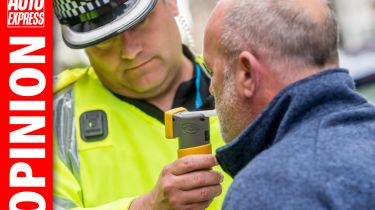 The festive season is upon us again, and Auto Express will ensure you're well prepared with our fantastic Christmas gift guides online very soon.
But of course, this time of year also offers endless opportunities to party, spelling potential danger for drivers. So it is with some consternation that I read more quotes last week from transport minister Lord Ahmad reiterating that England and Wales have no intention of following Scotland's lead in reducing the blood-alcohol limit to 50mg per 100ml. 
England and Wales are sticking resolutely to 80mg per 100ml, out of step with every other nation in Europe with the exception of Malta. The argument appears to be that rigorous enforcement of the law is sufficient to tackle the problem. And because most offenders are way over the limit anyway, a new limit would make minimal difference.
• What is the drink-drive limit? UK laws explained
I struggle to see the sense in this line of thinking. As a Scot living in London, I spend plenty of time on both sides of the border. And in my experience, there is a now definite difference in attitude towards driving after drinking between the two nations.
Put simply, in Scotland I've found far less expectation drivers will want to chance their luck with alcohol since the new limits were introduced. Drinks quite often aren't offered, and if they are, are rarely accepted. This scenario is far less common in England. "Go on, you can have one," is the mantra.
• Prime Minister: using your phone at the wheel is as bad as drink-driving
This, to me, is the biggest indication of the success of the new limit north of the border, much more than any statistics Police Scotland provide.
Bringing about this behavioural change, in a country with as cavalier an attitude to alcohol as Scotland, is proof that a lower limit has a real effect. I struggle to see how in any way this is a bad thing, and hope that all drivers, wherever they are, will exercise similar caution this Christmas.
Should the drink-drive limit be lowered in England and Wales? Have your say below...