Panasonic's Autonomous Cabin Concept showcased at CES 2017
Futuristic interior concept demonstrates the interior of a driverless car with 4K touchscreen tables and novel materials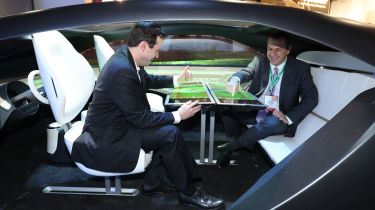 Panasonic has showcased its vision of what a fully autonomous car's cabin could look like at the 2017 Consumer Electronics Show in Las Vegas.
The four-seat Autonomous Cabin Concept features a blend of touch displays, smart materials and augmented reality in a bid to convince us that travelling in a driverless car will become as fun and second nature as using a smartphone today.
The cabin is dominated by 4K Connected Interactive Tables for all four occupants which can be used for work or leisure. These screens can be blended together to form one super-sized unit.
Alternatively, they can be moved into a number of different configurations, allowing occupants to face each other or sit side by side.
• CES 2017: latest car tech news
Each occupant could use their own table, or screen, in the way they might use a tablet now. Alternatively, a family might choose to play a digital board game on the combined screens.
As the car is driverless, in-car cameras scan the occupants for the designated 'driver', who is the only person who can control direction by updating the sat-nav system.
Speakers built into headrests allow all four occupants to listen to their own choice of music, while augmented reality 'windows' can display information about the destination and even provide detail on landmarks the car passes.
Panasonic has also used its expertise in consumer electronics design for its Smart Material tech, which features throughout the cabin.
This includes lightweight plastic made to look like real premium wood that can be backlit to change the ambience.
Although the cabin is very obviously a concept, Panasonic believes a number of the technologies will filter through to production cars eventually.
Would you like to see Panasonic's vision come to reality? Leave us a comment below...