CES 2017: car news round-up
The 2017 Consumer Electronics Show offered up plenty of tech for car lovers - here's our roundup of the important car tech
The 2017 Consumer Electronics Show proved once and for all that technology is leading the way in car development. Just a few years ago, CES was the domain of computers, mobile devices and components only, but 2017 saw it turn into a mini-motor show displaying advancements in autonomous driving, artificial intelligence and car connectivity.
The Las Vegas Convention Centre once again opened its doors for the world's biggest technology trade show this year, and we have all you need to know about CES 2017 right here.
Alongside new household gadgets and personal devices, car makers got in on the CES action with advances in autonomous driving, new infotainment systems and novel ways of interacting with the world around you from the driver's seat. Even tech firms not usually associated with the motor industry dipped their toes into the world of car tech.
The highlights at CES 2017 included the reveal of the first production car from tech start-up Faraday Future. The FF91 has the Tesla Model S firmly in its sights and is claiming to be the world's fastest production car with a 0-62mph time of only 2.39s. Honda revealed the NeuV city car concept with its 'emotion engine' and Toyota showed off the Concept-i, while the Portal was an MPV concept from Chrysler aimed at younger buyers.
There were also numerous announcements on electric car and autonomous car technology from big automotive brands and tech companies with advanced new connectivity and safety systems playing a key role in proceedings.
Below you'll find our round-up of all the big automotive news from CES 2017, just click the links for the full stories...
• CES 2016: All the big news from last year's CES
CES 2017: gallery
CES 2017: all the big car technology news
Audi and NVIDIA team up for AI car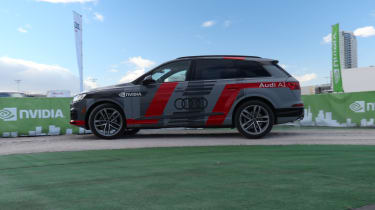 Working in partnership with computing company NVIDIA, Audi aims to have the smartest self-driving cars on the road by 2020. Audi and NVIDIA used CES to announce their plans, and explained that the system runs off NVIDIA's latest AI car platform, which utilises a 'deep learning' supercomputer named Xavier.
BMW
HoloActive Concept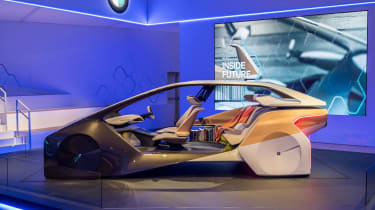 BMW previewed yet more future interior technology at the 2017 edition of the CES show with the HoloActive cockpit concept. This new user interface builds on some of the tech showcased by BMW at the last two editions of the show, combining gesture control with an infotainment screen using the same technology found in windscreen head-up displays to create holographic interfaces.
BMW 5 Series autonomous prototype review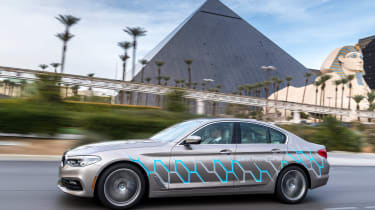 BMW also used the Consumer Electronics Show to showcase a self-driving version of their all-new 5 Series, and we got the chance to take to the streets of Las Vegas for a drive (and ride) in the prototype.
Bosch
Bosch car cockpit of the future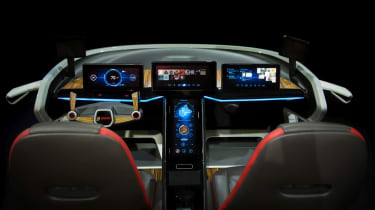 Bosch has designed its own concept car showing off its take on the future of car interiors. The car on display features a drive monitor camera that recognises individual people and sets up the car to their preferences. It'll also adapt the in-car temperature based on who's behind the wheel and put your favourite music on.
Smart Parking assistant
Bosch also showed off a new automatic parking system which it says will ease the strain of finding a space in the city. Currently in partnership with Mercedes, the system uses ultrasound sensors to detect available spots and measure the space, before transmitting that data to a digital street map to create a real-time parking diagram, aiding other drivers who may be looking for a space.
Chrysler Portal concept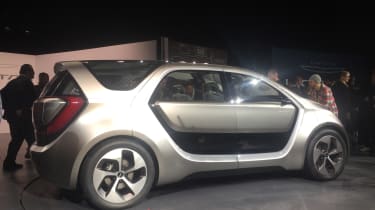 Fiat Chrysler's main attraction at the CES show was the future-thinking Portal concept. It's an electric minivan with autonomous driving capabilities and neat features such as double sliding doors. It is believed to play an integral part of FCA's technology partnership with Google.
Eli ZERO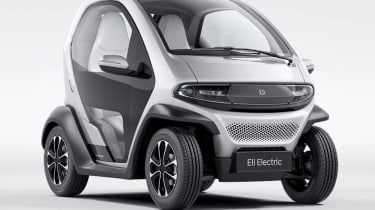 This curious little electric vehicle debuted on the CES show stands. Little-known carmaker Eli has created what looks like a Renault Twizy but with proper weather protection, which is described as the "ultimate two seater mobility device for agile daily movement".
Faraday Future FF91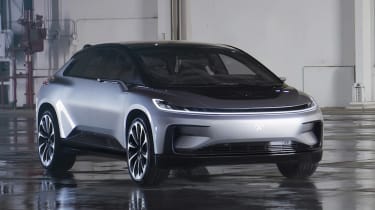 Perhaps nothing at CES 2017 is bigger than this – a year on from revealing its stunning FFZERO1 concept car, new electric car start-up Faraday Future showed off its production FF91 electric car for the first time. The Tesla Model X rival is, according to Faraday Future, the fastest accelerating electric car in the world and boasts a range of 378 miles.
Production won't start until 2018, but the car on display showed off a number of high-tech features, including facial recognition instead of a key, cameras instead of mirrors and driverless valet parking.
Ford electric vehicles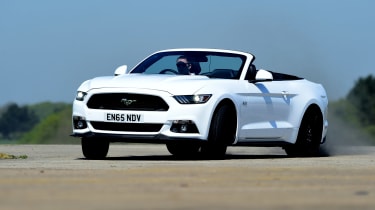 Ford stunned the CES show by announcing a total of seven electric or hybrid vehicles that will launch in the next five years. A hybrid Mustang, F-150 pick-up and electric SUV are among the vehicles announced. There's even an autonomous ride-sharing vehicle planned, too.
Honda NeuV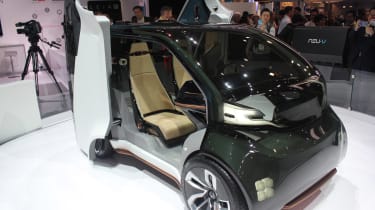 Another one of the show's big concepts was the Honda NeuV. It's a small urban car created with autonomous commuting in mind. The NeuV also features a so-called 'emotion engine', and is part of a wider "Cooperative Mobility System" that Honda based its presence at the CES show around.
Hyundai
Hyundai went all out for the CES show. The Korean manufacturer showed off plenty of new tech which it intends to incorporate into future production models.
Hyundai fuel cell SUV confirmed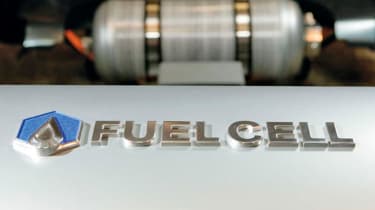 The brand has confirmed an all-new SUV for 2018, which will be powered by a hydrogen fuel cell. It follows on from the current ix35 FCEV, but will be a new model rather than an adaptation of an existing one. We'll see the product in the metal at the 2017 Geneva Motor Show in March. Hyundai has also confirmed a partnership with IT giant Cisco to produce what it says will be the 'ultimate connected car' - with fully autonomous driving, remote servicing, and connection to buyer's homes and workplaces.
Hyundai Healthcare Cockpit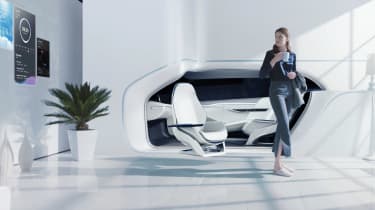 Also shown off was Hyundai's answer to road rage - a new 'wellbeing' interior concept. It uses biometric technology to monitor the driver's physical and mental state and reacts by adjusting cabin lighting, seating, sound, and even scent.
Hyundai Ioniq autonomous ride review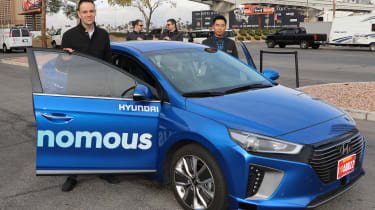 Hyundai showcased its vision for future mobility at CES, with insights into emission free, autonomous, connected mobility. At the recent LA Motor Show, the company revealed an autonomous version of its first electric production car – the Ioniq, and CES we got the chance to be driven around Las Vegas.
Nissan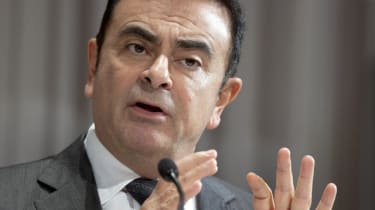 Nissan CEO Carlos Ghosn fronted a keynote address at this year's CES, and according to the show's official website a "major technological breakthrough" related to zero emission, zero fatality motoring was up for discussion.
Panasonic
Autonomous Cabin Concept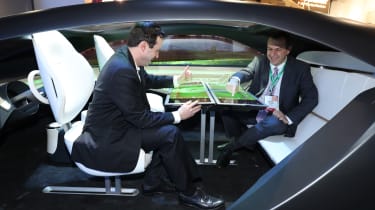 Panasonic displayed its vision of an autonomous car cabin at CES. The four-seat concept is dominated by 4K Connected Interactive Tables for all occupants, but also features a mixture of touchscreen displays and augmented reality to ensure that travelling in a self-driving car will be fun.
Android in-car infotainment system
Panasonic has revealed it is working on a new Android in-car infotainment system with Qualcomm. The system is claimed to move the game on from the existing Android Auto set-up and according to Tom Gebhardt, president of Panasonic Automotive, North America, "will be multiple generations ahead of existing systems".
Among the features buyers can expect on the new system are a Panasonic Passenger app which will aid the driver manage navigation to their destination and more seamlessly call up personal music profiles.
The pair-up with Qualcomm will also allow Panasonic to shorten production times, and reduce the up-front cost to car manufacturers.
Peugeot-Citroen built in HD Garmin cameras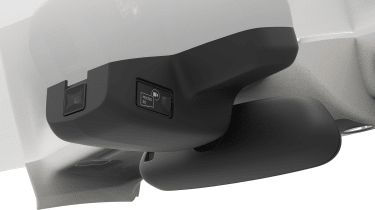 Garmin showed off its latest HD rear view mirror camera tech that'll be rolled out on future models from the PSA brand. The 2017 Citroen C3 already features ConnectedCAM tech as standard, but the Garmin Intelligent Driving Video Recorder (IDVR) will be fitted on future models from the brand, too, including Chinese market Dongfeng vehicles. Garmin is also showcasing its phase two of its Lenexa infotainment system that aims to reduce driver distraction.
Rinspeed Oasis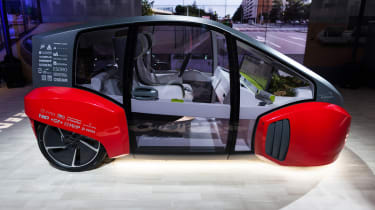 Another eye-catching concept car from Swiss car designers Rinspeed was unveiled. The Oasis is a spacious self-driving urban pod that can turn on its own footprint, and has been designed with a huge 5K display dashboard, an augmented reality windscreen, and even its own garden plot. We'll see it at the 2017 Detroit Auto Show too.
Toyota Concept-i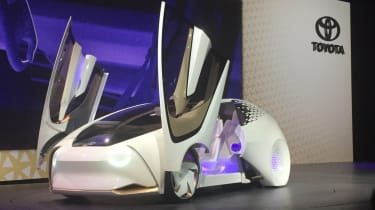 Toyota took to CES 2017 to unveil its Concept-i car. The cartoon-like concept car aims to put the driver's needs ahead of technology, and showcases an all-new 'Yui' artificial intelligence system. The Concept-i is Toyota's vision of a car by 2030, where the car will be a home on wheels. However, much of the tech shown on the Concept-i is expected to be introduced onto Toyota models before that.
Valeo parking and blind spot tech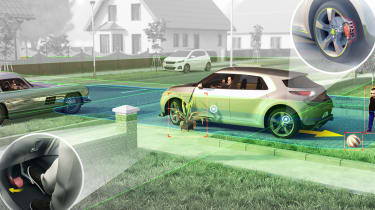 Next-generation AEB and blind spot detection tech from Valeo could be coming to a car near you. The safety equipment promises complete 360-degree detection and braking to help prevent accidents and uses cameras and ultrasonic sensors to scan the car's surroundings and intervene if you don't react quickly enough.
Volkswagen App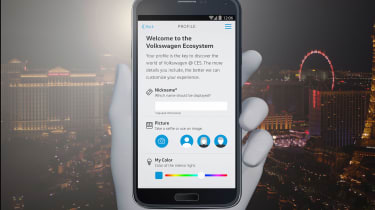 Volkswagen used CES to showcase a new app which takes personalised connectivity to the next level. The app allows users to create their own individual VW id, which is then transferable from model to model – when a family replaces their car, for example, or if owners need to rent a VW model while on holiday.
The ID could then configure the display screen, adjust the seats and prepare music as per the customer's selections. The Volkswagen Ecosystem also makes it easy for owners to integrate services from third party supplers and port them over to other VW models.
What was your favourite display at CES? Let us know in the comments below...