Ford will build hybrid Mustang, electric SUV and autonomous car by 2021
Ford confirms plans for a major EV push, including hybrid Mustang, F-150, Transit and fully electric SUV with 300 mile range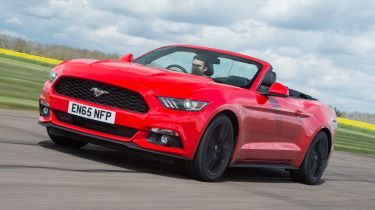 Ford has rocked the 2017 CES show by announcing a wave of new low emission vehicles on the horizon. The Blue Oval will launch a hybrid Mustang, a hybrid F-150 pick-up, a plug-in hybrid Transit van, a fully electric SUV and an autonomous mass-market ride-sharing vehicle by 2021.
The announcement confirms seven out of a total of 13 "global electrified vehicles" due to arrive in the next five years. It's part of a $700m investment in Ford's Michigan assembly plant that will also see 700 jobs added to the facility in the same timescale. A total of $4.5bn will be invested in the EV programme overall.
• Driverless cars: everything you need to know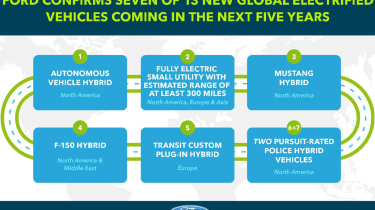 The most significant announcement at the CES press conference is what's described as an all-new fully electric small SUV that looks "like nothing we build today". It'll arrive by 2020, promises a battery range of 300 miles and will be sold in North America, Europe and Asia. That's the same timeframe and similar specs to VW's new I.D. electric model.
Ford is also developing a new wireless charging system that claims to "make recharging an electric vehicles as easy as pulling into a parking spot". Prototypes of both the car and the charging system will be tested across Europe and North America.
Also in 2020, a hybrid version of the Mustang sports car will launch in North America before it's rolled out to other markets soon after. It's said to use an Ecoboost turbo engine, likely the 2.3-litre four-cylinder unit found in today's base Mustang, with promised power and torque levels to beat a V8.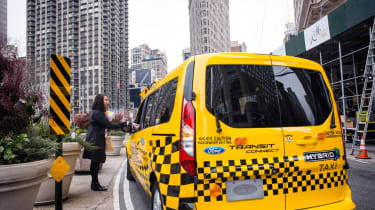 A Europe-specific plug-in hybrid Transit Custom will launch in 2019, too. The Mustang, F-150 and Transit Custom will be the first hybrid models powered by Ford's EcoBoost turbo petrol engines rather than naturally aspirated units.
In 2021, Ford plans to launch a "high volume autonomous vehicle designed for commercial ride hailing". That will launch in 2021 in North America, aiming to take on brands such as Uber and Volkswagen's new start-up MOIA in offering a ride-sharing service.
Ford CEO Mark Fields said that the brand plans "to be a leader in electrification, autonomy and also connectivity". It has sold 560,000 vehicles globally with some sort of powertrain electrification so far.
What do you think of Ford's EV and hybrid plans? Let us know in the comments...