Consumer Electronics Show: all the car news from CES 2016
All the big car new stories and vehicle tech debuts at the CES 2016 show in Las Vegas.
Jump back in time a few years and the annual Consumer Electronics Show in Las Vegas would have barely registered on the radar of the world's car fans and car industry executives but oh how times have changed.
CES 2016 bubbled with car technology reveals and news from the moment the doors opened. The world's leading car brands had seemingly come to regard the premier tech show on the planet as the perfect opportunity to show how seriously they're taking the march of cutting edge gadgets into cars. Not to mention the potential that technology advancements have to transform the way we drive and interact with our vehicles.
It wasn't hard to identify the overarching trend in car technology at CES 2016 with manufacturers such as Volkswagen, BMW, Audi, Ford, Toyota, Kia and Aston Martin all towing the 'connected car' line. The scope of potential benefits that come from fast internet connections in our vehicles ranges from advanced entertainment functionality to safety systems, navigation and full autonomous driving.
Both BMW and Audi gave us a glimpse of their future car interiors with concept cars with BMW's AirTouch technology taking gesture control to the next level. Less familiar names like Faraday Future and Rinspeed showed far-out concept cars that would be worthy of any motor show while Bosch displayed a concept car to showcase the advanced touchscreen tech it will soon be peddling to the world's car brands.
We also saw car makers partnering with technology firms with the aim of bringing their audio visual and software engineering expertise to bear. McLaren got into bed with JVCKenwood to create a special 675LT and Bentley teamed up with headphone firm Monster for the Monster by Mulliner Continental GT concept.
Scroll down the page for more on the top car news from CES 2016...
CES 2016: all the top car news stories
Volkswagen Budd-e concept car
Volkswagen revealed a new infotainment system for the e-Golf at the CES show, but all eyes were on the new Budd-e microbus. It's not a production car, but rather a look at future tech for Volkswagen - in a package that looks back at the classic VW bus.
It's fully electric, built on a new all-electric platform, and features loads of in-car tech including smart home connectivity. This means it can talk to your house - and even tell you what's inside your fridge.
BMW's i8 'iVision' concept
BMW did the double-whammy at CES 2016. Not only did it show us a preview of what could become a production i8 Spyder, but it's also demonstrated the latest array of in-car and autonomous tech. The jaw-dropping show car had no doors so punters can see and sample the new functions inside including the AirTouch gesture control tech.
That wasn't all from BMW, however, a second version of the BMW i8 without conventional door mirrors was also shown. The i8 Mirrorless looks entirely production-ready and features three wide-angled cameras mounted on the doors and rear window.
Faraday Future
Chinese-backed EV brand Faraday Future unveiled its bonkers, single-seat electric hypercar. Called the FFZERO1, it has a startling 986bhp from four electric motors, making it capable of 0-62mph in under three seconds.
What's more relevant to buyers is the modular platform underneath. The chassis can be lengthened with extra battery cells added between the axles, allowing a variety of bodystyles to be made. Word is there'll be an SUV rival for the Tesla Model X before too long.
Ford: Autonomous tech & SYNC 3
Ford was expected to announce a partnership with Google to combine efforts to reach full autonomy sooner in its cars, but CEO Mark Fields dismissed rumours by instead revealing that Ford will triple its own autonomous testing fleet. The Blue Oval also revealed details of its latest SYNC 3 in-car tech, with plans to connect the system with smart home systems - so you can control your home from your car and your car from your home.
Aston Martin Rapide S concept hints at new tech developments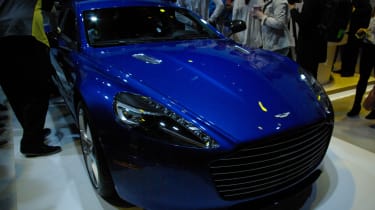 Aston Martin revealed a Rapide S concept car in partnership with Chinese tech firm LeTV at CES 2016 - and the connected car features it shows off could make their way into production Astons.
The car can connect to LeTV's cloud service to allow the car to talk to other connected devices and vehicles. It also gets a large central touchscreen for all the infotainment features, as well as a 12.2-inch digital display behind the steering wheel to display important information. Speech recognition software improves safety and usability, too.
Rinspeed Etos concept car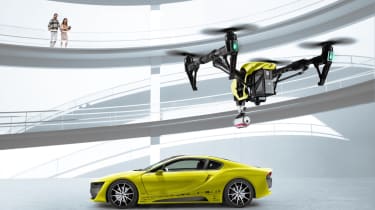 Rinspeed is a car company with a difference. The Swiss company prefers to create wacky concepts instead of production cars - calling itself a 'powerhouse of ideas' rather than a car manufacturer. Its latest model, the Rinspeed Etos, is wackier than most. It's a sports car based on the BMW i8 - but adds several features, including a landing pad for a drone.
• What is Rinspeed? 25 years of crazy concept cars
Toyota Research Institute plans & next generation mapping tech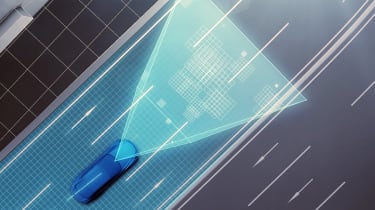 Toyota's billion-dollar investment into the new Toyota Research Institute (TRI) was outlined at CES 2016, with the company taking on some exciting projects. There are four key goals: to build an autnomous car that is incapable of crashing, to increase access for those who can't drive currently, to translate research to indoor mobility as well (including home robots) and to accelerate development of AI and machine learning.
As previously announced, the brand also announced a scheme to make use of technology already fitted to its cars to create a real-time mapping service, the company has revealed. The mapping technology uses the cameras and GPS systems fitted to many of Toyota's cars to provide a deeper understanding of road layouts, traffic routes and signage, which the company says is essential for the implementation of safe automated driving.
Bosch connected car concept
Bosch is a big name in the car industry, supplying a huge amount of engine electronics and in-car tech to many big-name manufacturers - and at CES 2016 the company brought along a concept car that shows off what it will be supplying in the years to come.
The key tech showcased on the car is a large 'haptic' touchscreen covering the whole dashboard and centre console. This is a new type of screen that has 'physical feedback' - that means you can actually feel the buttons on the screen as if they were really there.
Future Audi interior tech unveiled
Audi showed a new concept interior at the 2016 Consumer Electronics Show (CES). It previews the future for Audi car interiors, featuring large touchscreen displays and even gesture control - it's based on the interior of last year's Q6 e-tron concept.
The Audi press conference at CES also touched on the 'connected car' of the future. This is where the car talks to the world around it via the internet, a step on from 'car-to-x' tech like traffic sign recognition that's already commonplace in production cars.
McLaren 675LT JVCKenwood concept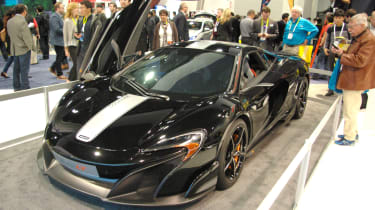 McLaren was determined not to be outdone by the striking BMW i8 concept at CES 2016 and has displayed this 675LT upgraded by JVCKenwood to fight for the supercar limelight at the show. The Woking-built machine got a number of styling and tech upgrades highlighting features that may soon arrive in McLaren production cars.
Collaborating with JVCKenwood, the Japanese electronics company, McLaren took a prototype example of the now sold-out 675LT and set about installing a 'Caroptronics' system. It includes an advanced head-up display that shows vital information, and can even highlight the presence of other vehicles.
Kia: Drive Wise sub-brand
Kia revealed a new sub-brand at CES 2016 called Drive Wise. It's the banner for the brand's future autonomous car technology and will be used to encompas everything to do with making the driver's life easier - including fully autonomous cars but also self-parking tech and even things like automatic city braking.
Bentley Monster by Mulliner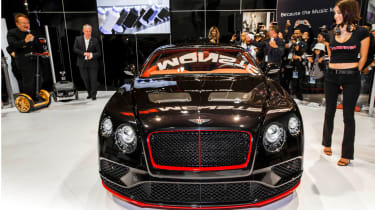 Bentley's coach-building division Mulliner joined forces with Monster to create a unique Bentley Continental for CES in Las Vegas.
The biggest upgrade, however, is to the Bentley GT's sound system. With 3,400 watts of music power, the stereo will no doubt compete with the sound of the 520bhp twin-turbocharged V8 under the bonnet. The speakers are tuned to 'Pure Monster Sound' - the company's signature audio profile, and Monster claims the stereo is suitable for all genres of music, particularly hip hop, rap, EDM and rock.
More car tech news from CES 2016
There was plenty of car related news from brands not directly associated with the automotive industry at CES as the worlds of cars and technology continued to merge.
Harman announced plans around scalable, future-proof hardware and software solutions. Further refinement of audio systems, in light of its new partnership with DIRAC, will enhance the digital audio experience on a platform set to "shatter the boundaries" of what was considered possible. The firm also revealed headphones that can automatically lower their volume when the user's name is called.
Clarion rolled out the FDS digital loudspeakers announced at Frankfurt and Thinkware brought us new products and improved technologies to its dash cam range. Garmin announced a revised product range and despite Pioneer claiming DAB/internet hybrid radio is the way forward, DAB radio buffs at PURE are showcasing new products for 2016.
Which new tech at CES 2016 do you think will have the biggest impact on the car industry? Let us know in the comments section below...