LA Motor Show 2016: news round-up, pics and best cars
One of the last big motor shows of 2016 sees the year out with a bang - here's all you need to know about what happened in LA
The 2016 Los Angeles Auto Show is arguably the swansong of the motoring calendar, as it's the last major show of the year that holds international debuts. Along the sunny west coast of the USA, the Los Angeles Convention Centre is the place to be this winter for all the latest car reveals.
Detroit, Tokyo, Geneva and Paris have all been host to some big car reveals and news, but the LA show sees the car industry year out with a bang. We've seen a groundbreaking new electric SUV concept from Jaguar, Alfa Romeo's first foray into the SUV market and the most powerful E-Class ever produced.
Alongside these show stealing cars, we've also seen Volkswagen unveil its Atlas SUV - the car that it hopes will win back buyers in the US - and a concept SUV from Subaru, too.
LA Motor Show 2016: live gallery
LA Motor Show 2016: the key cars
• Alfa Romeo Stelvio: Alfa has revealed its first ever SUV, hitting LA in flagship Quadrifoglio form• Cadillac Escala: US brand's luxury saloon concept is fresh from its Pebble Beach reveal• Jaguar I-Pace: Jaguar has revealed its first EV, a sleek crossover called I-Pace• Jeep Compass: We've seen it in Brazil, but Jeep's Qashqai debuted in its home market• Mercedes-AMG E 63: Most powerful E-Class saloon blasts into LA• MINI Countryman: Second-generaion Countryman made its public debut
LA Motor Show 2016: top news stories
• New rotary-engined Mazda could shun hybrid technology• Hyundai announces autonomous Ioniq concept• Range Rover to lead JLR's electric charge• First new 'original' Jaguar XKSS D-Type revealed at LA show• New Jaguar I-Pace set to get SVR treatment• Testing the new Discovery's Advanced Trailer Assist
LA Motor Show 2016: our show stars
Jaguar I-PaceSteve Fowler, Editor-in-Chief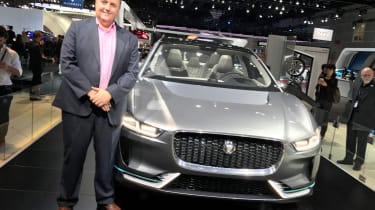 It's Jaguar's first all-electric car, it's an SUV, it'll go for over 300 miles between charges and it looks sensational. What's not to like?
The best bit, though, is that although this car wears a Concept tag, it'll go into production pretty much unchanged in about 18 months time. Jaguar promises it'll be the first of the so-called 'Tesla fighters' – ahead of Audi and Mercedes rivals – and will undercut the Tesla Model X, too.
Throw in 0-60mph performance of 'around four seconds' and it's easy to see why the whole LA show got so excited about this car – I certainly am.
Alfa Romeo StelvioJohn McIlroy, Deputy Editor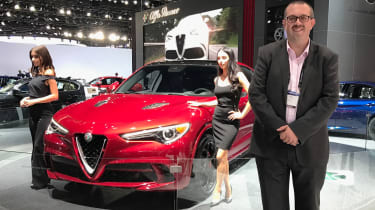 Is the Alfa Romeo Stelvio predictable? Perhaps. But you can't blame Alfa because its first SUV looks… well, like how you'd imagine an Alfa SUV to look. Fact is, the new family front end suits the taller profile of a crossover very nicely, thank you, and the overall profile manages to avoid looking particularly dumpy.
Most importantly of all, even those who didn't like the Stelvio (and there are plenty of them) had to admit that it's likely to be in demand. This will be Alfa's biggest seller, I'd wager, and a car that could, at last, get the brand's fortunes heading back in the right direction.
Mercedes-AMG E 63Jonathan Burn, News Editor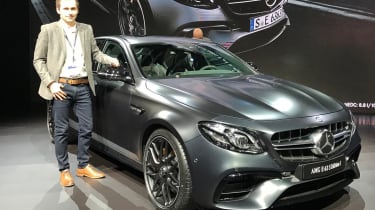 At another motor show where SUVs and electric cars once again stole the headlines, the new Merc-AMG E63 was the perfect antidote.
It's the most powerful version of the E-Class ever produced thanks to a thumping 603bhp 4.0-litre twin-turbo V8. It's also exclusively four-wheel drive for the first time, but a new drift mode - which essentially turns off the traction control and sends power to rear wheels only - ensures you'll still get through plenty of rear tyres. If nothing else, it's show some manufacturers still have a sense of humour.
LA Motor Show 2016: A to Z
Alfa Romeo Stelvio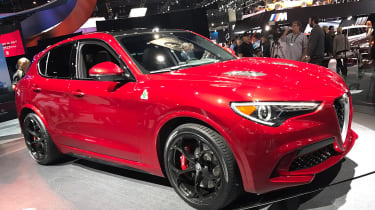 The Alfa Romeo Stelvio was revaled at the LA Motor Show in flagship Quadrifoglio form. It's the brand's first foray into the premium SUV market dominated by the likes of the Jaguar F-Pace, BMW X3 and Mercedes GLC, and the second model in their push for eight new cars by the end of the decade.
Underneath the curvy face we know there's a rear or all-wheel drive platform derived from the Giulia. The Stelvio, named after both an iconic mountain pass and an Italian cheese, is likely to cost from around £35,000 when it goes on sale early next year.
BMW M760i xDrive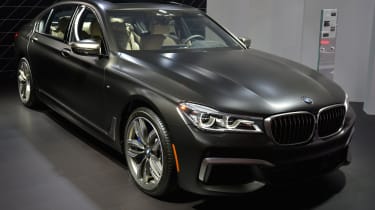 Along with showing off its iPerformance range that includes the new 740e and 330e executive saloons, took to LA to unveil the hottest BMW 7 Series around - the M760i xDrive. This 600bhp über saloon comes complete with four-wheel drive and Audi S8 Plus-rivalling performance.
Cadillac Escala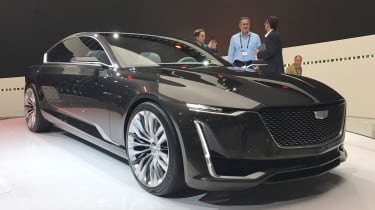 We first saw Cadillac's luxury four-door coupe concept at the Pebble Beach motor event earlier this year. The rival to the BMW 6 Series Gran Coupe features a futuristic interior with evolutionary Caddy styling, but mated to a traditional 4.2-litre V8. The LA show gives punters the chance to examine what could become a new production model.
Honda Civic Si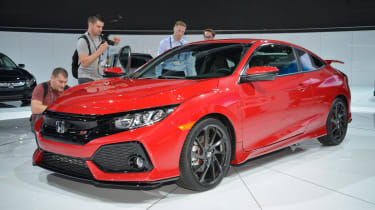 After the bonkers Civic Type R concept went on display at Paris, Honda's Civic Si has debuted at the LA show. The Civic Si is a halfway house warm hatch between the regular car and the potential Nurburgring lap holder - although if it goes on sale in the UK it could possibly be badged 'Type S'.
Jaguar I-Pace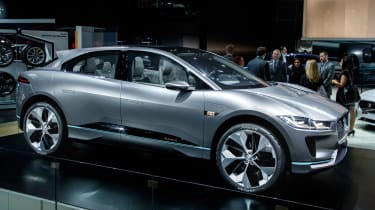 One of the biggest debuts at LA this year was the Jaguar I-Pace concept – an electric crossover previewing a production model due late next year. The Tesla Model X rival uses a 90kWh battery pack and two electric motors for a total power output of 395bhp. It sits on an all-new aluminium platform, and Ian Callum has worked both F-Pace and C-X75 influences into the sleek design. Jaguar has hinted that it'll cost around 10-15% more than an equivalent version of the F-Pace, so a starting price around £55,000 may not be too far off the mark.
Jeep Compass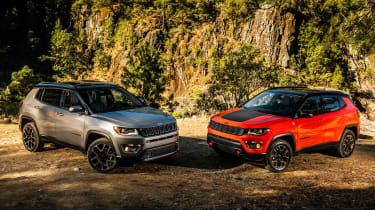 Jeep's new Compass is the first new model to be built at the brand's Brazilian factory, and will go on sale in both Europe and the US next year. Along with the 'conventional' version, there's also the more rugged Compass Trailhawk in a rather fetching orange.
Jeep Renegade Deserthawk and Altitude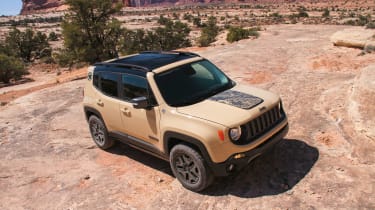 Two more special edition Jeeps are on the way in the form of the Renegade Deserthawk and Altitude, both of which have been confirmed for US releases shortly. The Deserthawk is based on the rugged 4x4 Trailhawk model, but comes with an exclusive interior finish, new alloy wheels and unique decals. The Altitude is marked out by its blacked out look and finish, and is based on the Latitude model.
Lamborghini Huracan Spyder LP 580-2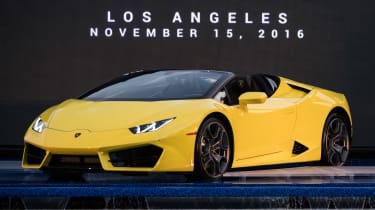 If you want your Lambo drop-top to act a little more slidey, you're in luck; Lamborghini took to LA to pull the covers off its rear-wheel drive Huracan Spyder model. Complete with the same 572bhp 5.2-litre V10 seen in the rear-wheel drive Huracan coupe, the Spyder features a retuned chassis to cope with the drivetrain changes.
Mazda CX-5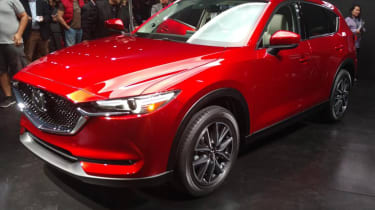 Mazda's new CX-5 SUV has been revealed at the LA show, and the VW Tiguan rival will arrive with a subtly tweaked but sportier design inspired by the smaller CX-3. It's a more purposeful looking car with thinner headlamps and a longer bonnet.
Mazda RT24-P race car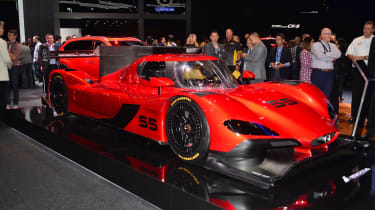 Mazda has taken to LA to unveil its new endurance racing car. The RT24-P still uses the brand's KODO design language, and comes with a 2.0-litre 4cyl engine producing around 600bhp. It will make its racing debut in Daytona at the 2017 Rolex 24-hour race in January.
Mercedes-Benz E 63 AMG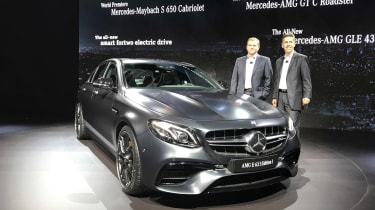 Mercedes has already revealed its two new E 63 models and they'll make their public debuts later this month. Two versions are planned – a standard E 63 producing 563bhp, and a hotter 'S' version with 604bhp. Both use Merc's 4.0-litre twin-turbo V8, dual clutch nine-speed gearboxes, and 4Matic+ all-wheel-drive systems.
Mercedes-Maybach S 650 Cabriolet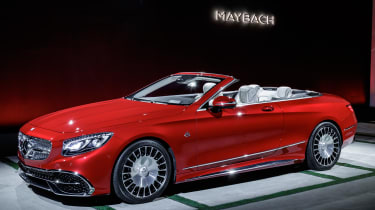 A new Mercedes-Maybach model to sit alongside the S600 Saloon was uncovered at the show in the form of the S 650 Cabriolet. It takes the already luxurious S-Class Cabriolet and adds new interior and exterior tweaks to mark it out as special. It'll be limited to 300 examples, and will cost in the region of £260,000 when it arrives in the spring of 2017.
MINI Countryman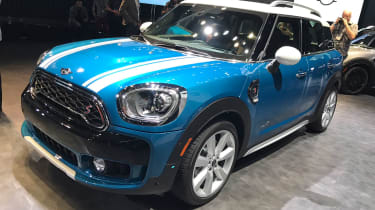 The all-new, second-generation MINI Countryman has already been revealed, but it made its public debut at the LA show. The Q2-rivalling crossover grows in size compared to its predecessor and embraces the brand's latest platform and engine range.
Porsche Panamera Executive LWB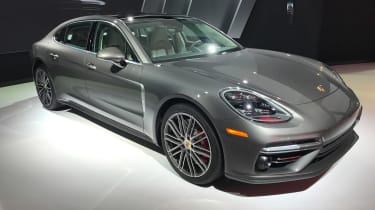 Porsche revealed updates for the Panamera, with a new long wheelbase version of its four-door coupe and a new entry level engine option. The Panamera Executive is marked out by a panoramic roof and a wheelbase stretched 150mm longer than on the standard car, so passengers in the back are treated to extra space. A 3.0-litre turbo V6 with 326bhp has been added to the range, bringing the entry level price of the Panamera down to £66,386.
Porsche 911 RSR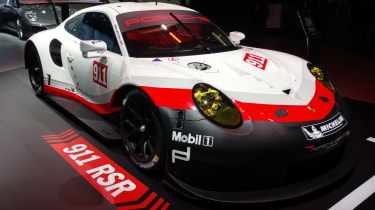 Porsche's latest endurance racer, the 911 RSR, certainly grabs your attention on the Porsche stand. It's mid-engined, which is sure to make 911 purists flinch, and comes with a rear wing adopted from the 919 Hybrid Le Mans car. The new FIA World Endurance Championship racer will make its competitive debut at the 2017 Daytona 24-hour race in January.
Subaru VIZIV-7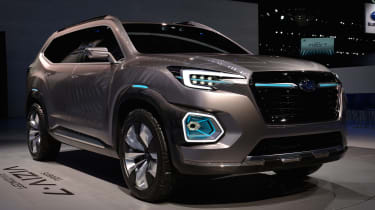 Subaru followed up its Impreza Saloon from last year with another new concept car at LA. The VIZIV-7 is a seven-seat 4x4 that paves the way for a future mid-size SUV. It will be the largest car that Subaru has ever built and is set to enter production in 2018, however it's unlikely to come to the UK.
Volkswagen Atlas SUV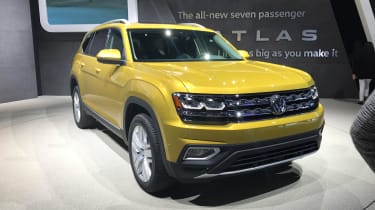 Volkswagen is looking to turn around its fortunes in the US with this - the Atlas SUV. The all-new model is just destined for the US for now, and is built at the brand's factory in Chattanooga, Tennessee. The new seven-seat SUV will be available with a turbo 4cyl petrol and a 3.6-litre VR6 and inspired by the Crossblue concept.
Volkswagen Passat GT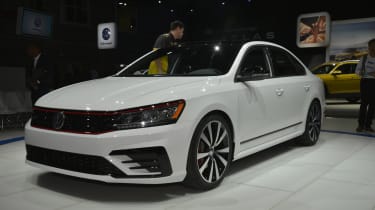 It's just a concept for now, but the LA show will also be the stage for Volkswagen's hot new saloon, the Passat GT. Like the Atlas, it's currently just for the US market, but comes equipped with GTI-esque details, red trim on the grille and a 276bhp 3.6-litre VR6 mated to a six-speed DSG gearbox.
Volkswagen e-Golf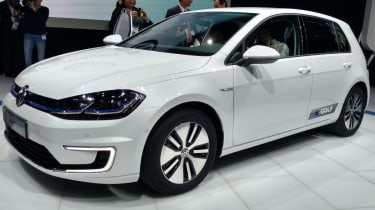 The 2017 VW e-Golf gets a revised look with C shaped daytime running lights on the front bumper, plus a new rear bumper and LED taillights. Range has been boosted by about 50 per cent to 186 miles, while power stretches to 134bhp and torque is up 20Nm to 290Nm. New tech highlights include an all-digital instrument display, a gesture control infotainment system, as well as traffic jam assist. It'll likely cost £32,000 before government subsidies when it goes on sale in 2017.
What car are you most looking forward to seeing at LA? Let us know below...