Range Rover to lead Jaguar Land Rover's electric charge
Jaguar Land Rover plans for up to 50 percent of its range to be electrified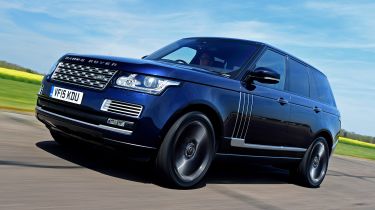 The I-Pace Concept may have been the star of Jaguar Land Rover's LA show stand, but other electrified models will beat it into showrooms as the two brands embrace battery power.
Speaking to Auto Express, JLR's CEO Dr Ralf Speth said: "Forty to fifty per cent of our range will be electrified by 2020."
Although the production I-Pace will be seen in twelve months time and go on sale in early 2018, it'll be beaten into showrooms by plug-in hybrid versions of the current Range Rover and Range Rover Sport. That means plug-in tech works with existing platforms, pointing the way to a full roll-out of plug-in hybrids across JLR's mainstream range before the end of the decade.
Further full-EV models based around the new architecture being employed in the I-Pace are also expected for both brands, while JLR's Special Vehicle Operations division has also confirmed that it is looking at a higher-performance version of the I-Pace.
• "Could hydrogen be forgotten as electric surges forward?"
However, it looks unlikely that Hydrogen power will been on the agenda for JLR, with engineering boss Wolfgang Ziebart telling us, "Hydrogen is complete nonsense.
"The well-to-wheel relationship is a disaster for hydrogen. You have a well-to-wheel efficiency of around 30%, while EVs end up with 70% efficiency."
Ziebart also promised that the I-Pace would be the first of the 'Tesla fighters' to make it to market, beating rivals from Audi and Mercedes, while he also expected another breakthrough in battery tech in three to four years yielding even greater opportunities for extended range, greater performance and reduced charging times.
What do you think about JLR's plans? Leave us a comment below...