New Mazda RX sports car sports car still on track
New Mazda RX concept car set for Tokyo Motor Show as Mazda confirms intention to bring the rotary engined sports car to life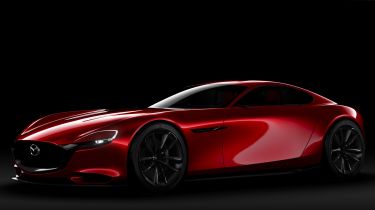 Mazda's RX Vision concept car is gaining momentum on its road to production and will influence the look of other cars as the brand prepares to unveil a new concept car at the Tokyo Motor Show in October.
It's almost two years since Mazda first revealed the RX Vision, which gave us our best indication yet that a new rotary-powered Mazda sports car was in the pipeline. Since then it has gone a bit quiet, as Mazda bosses have been trying to piece together a business case for the car.
• Frankfurt Motor Show 2017: news
However, a conversation with Mazda's Vice President for R&D in Europe, Matsuhiro Tanaka, at the recent Frankfurt Motor Show shows things are back on track. "With the Tokyo Motor Show we will be introducing a new design concept - you can think of it as an evolution of theme of the RX Vision.
"When we introduce a concept our intention from the engineering and design community is to make it a reality," Tanaka told Auto Express. "What I will say is that we are making the utmost efforts to try and make this a possibility."
Asked if Mazda would consider forming another alliance, like it did with Fiat on the MX-5, to help reduce costs, Tanaka said: "Currently we have absolutely no plans to make any such alliances."
It's understood that Mazda wishes go it alone with the RX Vision because of how precious the brand feels over the Rotary engine technology currently under development.
New Mazda RX rotary engine: hybrid or non-hybrid?
The Mazda rotary-engined sports car is expected to arrive with a pure combustion engine instead of relying on electrification. The Japanese manufacturer showed its RX-Vision concept sports car at its Los Angeles Auto Show in 2016 - and a production version is thought to be earmarked to coincide with Mazda's centenary celebrations in 2020.
Speaking at the LA show, the firm's head of R&D Kiyoshi Fujiwara admitted that several challenges remained before the long-awaited successor to the RX-7 and RX-8 could be given the green light and acknowledged that a rotary engine development team was still active.
• Mazda RX-Vision could preview new RX-7
"It is a small group of engineers still working, but they are still working," Fujiwara told Auto Express, before revealing that there are "more than 10 staff and fewer than one hundred" committed to rotary development. "The things standing in the way are both the business case and the technical challenges - but I am optimistic that a solution for the technical challenges can be found.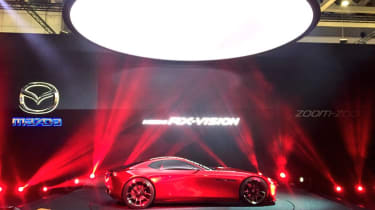 "We have had significant challenges as a business even five years ago and there are debts from the past 30 or 40 years that need to be overcome, but if cars like the new CX-5 are successful then a production version of the RX-Vision could be a possibility. So you can see that CX-5 is extremely important."
When asked if one of the potential solutions on rotary tech could be electrification, Fujiwara said, "All of our other internal combustion engines will have to have some form of electrification at some point - mild hybrid or 48-volt electrics" he said. "So yes, that type of technology could be in rotary engines in the future."
"However, I believe I would like to introduce the new rotary engine without electrification," he said, "because I think that is what the rotary engine fans will want."
One other potential product strategy could be for the production RX-Vision to arrive in 2020 with a new generation of rotary engine, and then for a higher-performance version to overcome the technology's inherit torque deficit by using 48V-based electric turbochargers.
Would you like to see a Mazda rotary-engined car with or without electrification? Let us know in the comments below...