Faraday Future FF 91 takes on Pikes Peak
Faraday Future's first model is called the FF 91 will continue testing at the challenging Pikes Peak hill climb
Faraday Future has announced plans to test its forthcoming FF 91 electric car at the 95th Pikes Peak International Hill Climb on 25 June 2017. That would make the brand the first EV-only manufacturer to run the course, which twists around 156 corners and climbs nearly 1,500m through the Rocky Mountains in Colorado, USA.
The maker says the event will bring "a new level of transparency" to its testing procedure, as engineers embark on the next stage of plans to launch their first all-electric SUV in the not too distant future. A video series labelled "Testing the FF 91" will follow the tech company's progress - the first of which is already available online.
Nick Sampson, senior vice president of research and development, said: "Testing the performance of FF 91 in real-world conditions sets the bar even higher as we bring the vehicle to market in 2018. The hill climb on Pikes Peak serves as the ideal setting to further develop the electric propulsion system and supporting thermal systems of FF 91."
The FF 91 will run in the Exhibition Class, using production representitive hardware and software, with a selection of undisclosed tweaks required to run at Pikes Peak. The car will be driven by principal engineer Robin Shute.
Over 64,000 reservations have already been placed for the FF 91, all since the sleek electric SUV coupe headlined this year's Consumer Electronics Show. With 64,124 reservations placed within 36 hours of the car's reveal, consumer reception to the Tesla Model X rival has been positive – good news for Faraday.
It's a figure dwarfed by the some 200,000 reservations taken for the Tesla Model 3 in 36 hours, but the FF91 is not a rival for Tesla's cheapest model, and will likely cost considerably more.
Presently, order books are only open in the United States, Canada and China, so prospective European buyers are yet to be factored in. It's still a figure that should be taken with a pinch of salt though, given that the two reservation tiers Faraday offers means a car can be 'ordered' with no deposit.
Standard reservations are free and only those who opt for priority reservations have had to cough up a refundable $5,000 (£4,000) deposit. These deposits place buyers at the front of the waiting list, and unlock eligibility for one of the 300 launch series "Alliance Edition" versions of the car, more details on which will be revealed at a later date.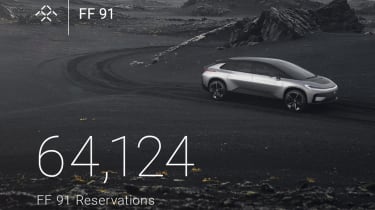 Those who do take the plunge will be at the front of the queue for what has been clocked as the fastest accelerating electric car in the world. Revealed in Las Vegas, the Faraday Future FF91 can race from 0-60 in a record breaking 2.39 seconds - beating the rival Tesla Model X P100D in Ludicrous mode - thanks to its 130kWh battery that produces 1,050hp and 1,800Nm of torque.
The FF91 also claims more than 378 miles of range while it can be topped up on any charging standard with wireless charging promised in the future.
While performance figures match that of a supercar, the wheelbase is in line with a luxury saloon. With a wheelbase of 3,200mm, it's longer than a Mercedes S-Class and Bentley Flying Spur meaning rear passengers can recline seats to 60 degrees.
It also takes styling cues from SUVs with a sleek, rounded front featuring a distinctive latticework pattern and an angular rear. The FF91 sits on 22-inch wheels and also features thin LED light bars at the front and rear similar to the company's FFZERO1 concept from 2016. Despite its size, design and instant acceleration, on the road it promises driving dynamics of a midsize car with four wheel steering and a ride height that actively adjusts depending on speed.
The FF91 has a glass roof to give a light and airy interior but both that and the rear and side windows all feature PDLC (Polymer Dispersed Liquid Crystal) glass. This means by tapping the glass, users can be provided with instant privacy and shade.
That's just one of the clever pieces of kit loaded onto the groundbreaking FF91. On the bonnet is one of the model's key features, a retractable 3D LIDAR detector disc that operates many of the autonomous functions alongside 10 HD cameras, 13 long and short range radars and 12 ultrasonic sensors.
• Driverless cars: everything you need to know
One of those functions is driverless valet parking - demonstrated live at the Las Vegas reveal - with drivers able to leave the car to park itself and summon it back via the FFCTRL app.
The standard rear view mirror has been replaced by a HD display, too, that merges live feeds from the side mirrors into a single image in a bid to eliminate blind spots. Facial recognition is also included to unlock the car meaning there's no key for the FF91 and touch buttons replace door handles.
As part of the new model, Faraday Future has also unveiled its global FFID which will form the basis of its connected "eco system". Each driver will have a unique ID that stores data about their driving preferences like seating position.
All this connectivity will be aided by high-speed wireless internet on board and the seamless integration will allow you to plan a route on your laptop, transfer this straight to the vehicle while making alterations on your smartphone.
Production won't start until 2018, and no list price has been confirmed yet. Bosses have been quoted saying the FF 91 will fall in line with "a premium flagship model", however.
Do you think Faraday Future can replicate the success Tesla has had? Let us know in the comments...