'Commuters should be reminded that cars and roads are strike free'
Strikes involving rail conductors, postal workers and Argos staff brewed a season of badwill, but Mike Rutherford has a suggestion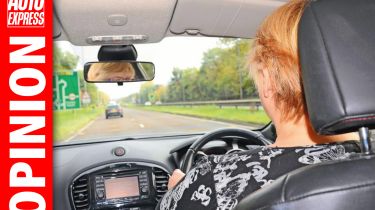 I'm hoping for a prosperous New Year, because over the festive season things had been looking preposterous. I'd like to think in 2017 we'll be able to rely on traditions like public transport, the Post Office and high street stores delivering the goods because what we experienced at the end of last year was simply unacceptable.
An army of striking Southern Rail drivers and conductors, postal 'workers' and Argos truckers collectively dumped on customers and taxpayers during what became a season of badwill. Cheers, guys.
Christmas/New Year is the most important, heart-warming time for the Marcus Rutherford Foundation/Young Adult Cancer Trust, which was bravely founded and part-funded by my dear son during his final days. We at his foundation occasionally buy £50, second-class, return tickets for patients travelling from homes in Brighton to cancer hospitals in London. Shame on the rail union bosses, strikers and clueless train industry chiefs for failing these deeply worried youngsters.
• "Could this be the year that car dealers finally get their act together?"
Marcus's foundation also spends thousands with high street stores as we shop for deals on TVs, laptops and other essentials for patients on cancer wards. But our work was compromised by Argos drivers' recent industrial action.
Worse still, we pay and rely on the Post Office to deliver the hundreds of £100 cheques we donate annually to patients in need. But because we weren't guaranteed a delivery 'service' from this company pre-Christmas, we instead used volunteer drivers in private cars – plus the Peugeot-donated Marcus Rutherford Foundation commercial vehicle – to transport gifts and cheques to homes or hospitals of grateful patients.
• "Isn't it time our road network was a priority too?"
I say company directors should take on and sort out trouble-making union bosses. I put it to striking 'workers' that they're mere pawns in a political game. Beleaguered travellers fleeced by extortionate fares on the Brighton to London line need an alternative to their useless trains.
It's time the motor industry sent car sales and finance experts to London Victoria, Brighton and other Southern stations to remind commuters that cars and roads – unlike trains and tracks – are strike-free zones.
Who needs an expensive season ticket for an occasional train manned by workshy staff when it can be more cost effective and reliable to rent or own a 24-hours-a-day, 365-days-a-year motor car?
What is your take on the recent season of strikes? Leave us a comment below...