"UK car factory staff shouldn't price themselves out of their jobs"
Mike Rutherford praises those working on the UK car production line, but also has a warning for them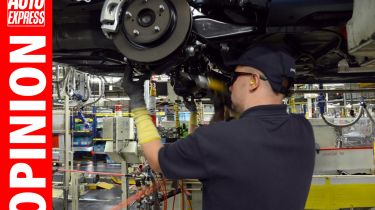 I'm all for praising essential employees like health professionals, cops, teachers, fire and rescue heroes, plus our defence personnel. But isn't it time Britain gave a nod of recognition and respect to its dedicated, truly world-class workers who build vehicles that help this country –and plenty of others – thrive and survive?     
If you're such a production person, stand up, take a bow, be proud of what you're doing for yourself, family and nation. Your country needs you. As does the Chancellor who gorges on the annual fortunes you rake in for him via the taxes on the products you build, your wages, your company's profits, and related taxation, duties and levies.
• UK car manufacturing up with one car built every 16 seconds
UK automotive turns over almost £75billion annually. The 800,000-plus jobs it creates, and untold billions it generates in tax, prop up HM Treasury and UK PLC.
I've visited vehicle production plants in dozens of countries on every continent. And I believe factory employees here are as good if not better than any others. True, Brits are hardly the least expensive. But cheapest rarely means best.
Considering their talents, work ethic and salaries, then weighing up their earnings against the high cost of UK living, these guys offer their employers great value for money. The same can't be said of their more militant opposites on production lines in or around Paris, Seoul and Detroit. The reality is that they're being hugely undercut by willing, able, educated, well trained Indians and Mexicans who earn £1-£2 an hour, while comfortably putting their countries in the Top 10 for global vehicle production, with Top 5 status beckoning. 
• Auto Express' Best of British features
If I have a piece of humble advice for car factory staff in Britain, it's this: Remember who you're up against and don't fall into the career-ending trap of pricing yourself out of your jobs. Average wages of £30k-£35k for vehicle production workers in a post-Brexit Britain are better – and then some – than zero wages. Never forget we're a nation with jobs that are in growing danger of being exported to cheaper foreign lands.
What's more, vulnerable Vauxhall factories in Britain are poised to be acquired by Peugeot, a company with a (pre-Brexit) history ofclosing UK production facilities, as the now redundant former factory employees at the defunct plant at Ryton, Coventry will testify. These guys would give their right arms to be on £30k salaries today.
Do you think UK car factory staff are the best in the business? Let us know below...