Autonomous robots to park cars at Gatwick Airport
Gatwick will start a three-month trial of autonomous robotic valets in August in a bid to fit more vehicles in its car park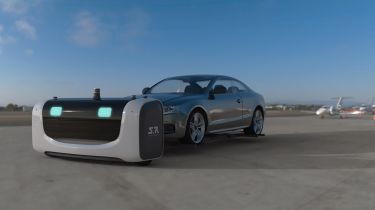 Autonomous robots will help out with valet parking duties at Gatwick Airport as part of a trial later this year.
For a three-month period starting in August, Zone B of Gatwick's long-stay car park will act as the testing ground for a fleet of robotic valets.
• Jaguar Land Rover develops "trustworthy" autonomous cars
The robots – developed by French firm Stanley Robotics and nicknamed 'Stan' – use forklift truck-like equipment to raise cars off the ground and transport them to a parking space.
Users drive to the car park area and park their car in a dedicated cabin, confirming their booking on a touchscreen. Cars are then scanned for their dimensions and slotted into appropriately sized spaces by the robots.
Using valet-parking robots removes the need for vehicle doors to be opened once parked, allowing a third more cars to occupy the same space than when parked by a human driver.
A planning application to Crawley council revealed Gatwick Airport is looking to remove lampposts and parking space markings, as well as build eight vehicle cabins, in the area of the car park where the trial is taking place.
Zone B is currently configured for standard non-valet parking and accommodates 2,350 spaces. During the trial, this will reduce to 2,180 ordinary spaces, leaving room for 270 robot valet spaces.
If the trial is a success, it's possible Gatwick will extend the scheme to other car parks at the airport. Zones C and D, for example, could have their joint capacity increased from 6,000 self-parking spaces to 8,500 robotic valet spaces.
A five-month trial of the robots at Charles de Gaulle airport in Paris last year was deemed a success. Further trials have also taken place in Lyon and Düsseldorf.
Gatwick isn't the first UK airport to utilise high-tech solutions in a bid to increase parking efficiency. Heathrow's Pod Parking system sees drivers at the Terminal 5 car park, before being whisked off to T5 by autonomous vehicles that drive along an elevated track.
What do you make of Stanley Robotics' invention? Let us know in the comments section below!