Skoda Kodiaq and MINI Countryman score five-stars in latest Euro NCAP tests
A fresh batch of Euro NCAP crash test results is in, with scores for the new Skoda Kodiaq, MINI Countryman, Nissan Micra and Suzuki Swift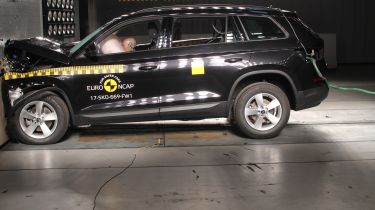 Euro NCAP has released crash test results for four new cars, and it's good news for potential buyers of the new Skoda Kodiaq and MINI Countryman – both have been awarded five-stars overall.
Skoda's SUV benefits from pedestrian and car-to-car automatic emergency braking as standard, while AEB features on the MINI too, but pedestrian detection is an optional extra.
• Safest new cars on sale in 2017
The two other cars to run the Euro NCAP gauntlet are new superminis – the Nissan Micra and Suzuki Swift.
Nissan's larger, more grown up Micra scores four-stars as standard, but becomes a five-star car with optional safety and assistance features such as automatic emergency braking with pedestrian detection and lane keep assistance fitted.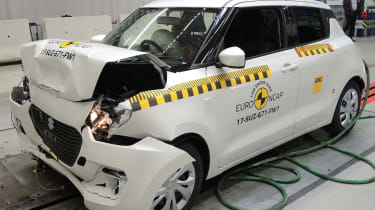 Meanwhile, the new Suzuki Swift manages a disappointing three stars overall with standard equipment fitted, stepping up to four with its 'Radar Brake Support' optional pack which introduces car-to-car automatic emergency braking. It lacks pedestrian detection, however, placing a five-star overall rating out of reach.
Every car subjected to Euro NCAP's automotive torture chamber in the recent tests received a five-star rating for adult occupant and child protection, plus pedestrian protection. The scores are indicative of how crucial driver assist technology is when it comes to safety and achieving strong Euro NCAP results.
Euro NCAP Secretary General, Michiel van Ratingen, says that by placing such a strong emphasis on tech to attain a good score, manufacturers will step up to the plate and deliver more safety technology as standard.
"Euro NCAP started rewarding AEB pedestrian systems last year and we have seen a rapid uptake of the technology", he explained, adding that AEB systems capable of detecting cyclists would form part of the rating system next year.
Will the new Euro NCAP rating system deliver safer cars in the future? Let us know your thoughts in the comments.