More than half of drivers break 30mph speed limits
New Government data reveals 52 per cent of car drivers break 30mph speed limits, compared with 46 per cent on motorways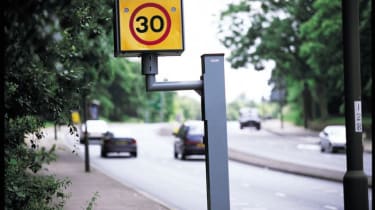 More than half of car drivers break the speed limit in 30mph zones, the latest Government figures have revealed.
Some 52 per cent of car drivers fail to obey 30mph speed limits, while 46 per cent speed on motorways and just 10 per cent drive too fast on single carriageway national speed limit roads, according to data from the Department for Transport's (DfT) Automatic Traffic Counters in 2018.
• UK speed limits: everything you need to know
Vans – also known as LCVs (light commercial vehicles) – were slightly more compliant when it came to 30mph speed limits, with 47 per cent breaking them. They were worse on motorways though – 53 per cent exceeded the 70mph limit.
The speed limit for lorries – or HGVs (heavy goods vehicles) – is 60mph on motorways and they are limited to 56mph (although this speed can be exceeded if the HGV picks up enough momentum when travelling downhill). As a result, a mere one per cent of lorries managed to break the motorway speed limit last year.
Lorries aren't allowed to exceed 50mph on single carriageway national speed limit roads, either, and only 20 per cent managed to break this law. HGV drivers weren't as disciplined in 30mph zones, though, where 42 per cent managed to speed.
Finally, 46 per cent of rigid HGVs (HGVRs) broke the limit on 30mph roads, compared with 36 per cent on single carriageway national speed limit roads.
• New UK speeding fines: law changes explained
Commenting on the figures, AA president Edmund King said: "More than half of drivers exceeding 30mph speed limits on local roads is extremely concerning.
"Speed kills, so drivers should remember that lower limits on residential roads and are there for a very important reason.
"The next Prime Minister can become a champion of road safety by reversing the cut to cops in cars who not only act as a deterrent, but also catch and penalise those with a heavy right foot."
The latest statistics did not include a detailed analysis of 20mph zones, but a study published by the DfT last year showed that, in 2017, 86 per cent of cars broke the speed limit in 20mph zones – a figure which rose to 94 per cent in the small hours of the morning.
What's the soloution to motorists breaking speed limits? Have your say in the comments...