UK van speed limits: all you need to know
What's the speed limit for a van in the UK? It's not always the one you'll see posted on the road. We explain all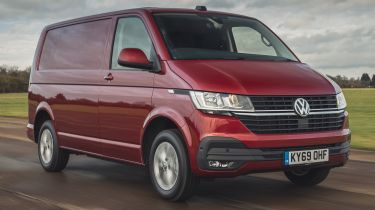 Speed limits of the United Kingdom are something that are a bone of contention for many people. Some want to see them reduced, while others think they are too slow, yet others believe they are just right. But what are the speed limits if you drive a van? Unfortunately the answer isn't clear-cut, because it varies according to what type of van, pick-up truck, camper or other commercial vehicle you're driving, the road that you're on and whether you're towing or not. 
If you drive an HGV, large van or public service vehicle, then you will be instructed on the different speed limits for these vehicles when you take the advanced tests needed to handle these vehicles. But if you're driving a smaller van that only requires a standard car driving licence to get behind the wheel, you need to be aware that the posted speed limits you see on the road aren't necessarily the ones that you must observe. According to the Gov.uk website, these vans (which have a gross vehicle weight of up to 3.5 tonnes) have to adhere to the following limits:
UK van speed limits
Built-up areas: 30mphSingle carriageways: 50mphDual carriageways: 60mphMotorways: 70mph
So on single and dual carriageways, the speed limit for vans is 10mph less than the posted limit for a car. In addition, if you're driving a van and towing (and as long as the combined overall weight is less than 3.5 tonnes) then the motorway limit is also pegged at 60mph. Of course these are standard limits, but local authorities can set limits as they see fit, so do remember to keep an eye on speed limit signs. Fortunately, many vans now come with the option of road sign recognition, making it easier for you to stay on the right side of the law – you just need to remember to knock 10mph off where appropriate.
• Van accessories: choosing the right extras for your van
If you're driving a van with a gross vehicle weight of between 3.5t and 7.5t, the van speed limits also apply, but the vehicle will be electronically limited to 56mph under EU law, so the limits for dual carriageways and motorways are effectively redundant.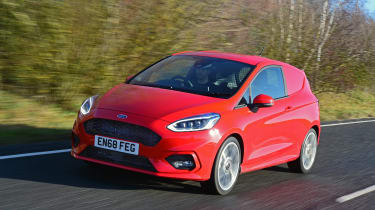 What are the speed limits for Car-Derived Vans?
There are exceptions to this basic rule for van speed limits, though. If the van is small and clearly a car with blank panels replacing its window glass (such as the Ford Fiesta Van or Dacia Duster Commercial) it's classed as a Car-Derived Van (CDV) and the standard national speed limits for cars apply. The official definition of a CDV is "a goods vehicle which is constructed or adapted as a derivative of a passenger vehicle and which has a maximum laden weight not exceeding 2.0 tonnes". 
One grey area will be with vans that are also sold as MPVs, and there are a lot of these on the market. Vehicles such as the Citroen Berlingo and Mercedes V-Class are MPVs and can stick to the posted limits, but then there are van versions of these vehicles (in this instance the Citroen Berlingo Van and Mercedes Vito). In a way these are van-derived cars but as a driver getting into one of them for the first time, it's hard to pinpoint the classification and, therefore, the correct speed limit.
Partnership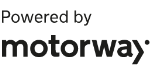 Need to sell your car?
Find your best offer from over 5,000+ dealers. It's that easy.
• Amazing luxury vans that cost more than a house
In the end, the only way to be absolutely sure is to check the vehicle's Gross Vehicle Weight (GVW). Otherwise known as its maximum laden weight, this is found on the van's weight plate, which will usually be on the door sill or door frame. If the GVW is more than two tonnes then the vehicle should adhere to the van speed limits. If the GVW is less than two tonnes then the best bet is to consult the V5C registration document. Unless the vehicle is registered as a Car-Derived Van, then the van speed limits apply.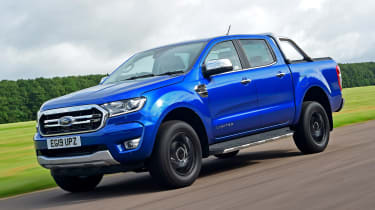 What are the speed limits for pick-up trucks?
Another grey area is the definition of a dual-purpose vehicle - one that can carry passengers as well as cargo. In UK law, a dual-purpose vehicle is one that is 'constructed or adapted for the carriage both of passengers and goods and designed to weigh no more than 2,040kg when unladen'.
• Choosing the right van for your needs
To qualify, vehicles must have side and rear windows, a second row of passenger seats behind the driver and either four-wheel drive or a rigid roof. They must also have at least the required ratio of passenger space to load area. Looking at these rules, it appears that pick-up trucks qualify as dual-purpose vehicles, but if you're driving one, then the standard UK speed limits for cars apply.
If the dual-purpose vehicle has seating for more than eight passengers, or measures in excess of 12 metres in length, then the lower van limits apply.
Crew vans with side windows, a row of seats behind the driver and a load area behind that will also qualify as dual-purpose in many cases, but the exact definition is complicated and there have been reports of confusion where combi or crew van speed limits are concerned. 
• Can an electric van work for your business?
Once again, the only way you know for certain is to check the V5C registration document. If the vehicle is classified as a car-derived van or dual-purpose commercial vehicle on the V5C, then the standard speed limits apply.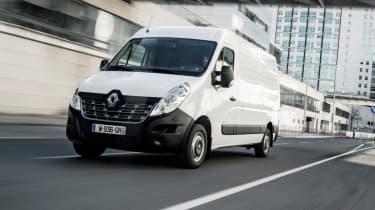 What are the speed limits for large vans?
Some vans are designed to have a gross vehicle weight that exceeds 3.5 tonnes, and if they do, then they must have a speed limiter fitted by law, so the maximum limits for commercial vehicles are unattainable anyway. In many ways this will help drivers keep within the law, although there's still a need to keep an eye on your speed in built up areas.
Of course, while these are the speed limits set out by law, they aren't a target to achieve. You should always drive according to the road and weather conditions. And if you're carrying a large payload in the back of a van, then you should adjust your driving style and give yourself enough time and space for manoeuvring, whatever speed you're going.
Check out all our vans tips and advice right here...