Different levels of autonomous car tech are confusing motorists say insurers
The insurance industry is concerned that drivers may not understand the distinction between autonomous and semi-autonomous systems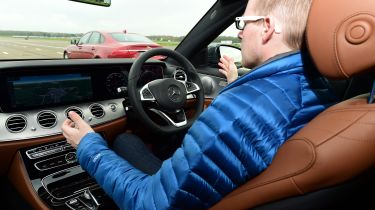 The car insurance industry has warned manufacturers against potentially confusing car buyers with different levels of driverless car tech on board new cars which could result in a higher numbers of accidents.
The Automated Driving Insurer Group (ADIG), led by the Association of British Insurers (ABI) in collaboration with Thatcham Research has launched a white paper highlighting the industry's concerns over drivers being confused by different levels of autonomous driving tech on board new cars.
There are six different levels of vehicle autonomy, with level 0 offering no self-driving tech, and level 5 being fully autonomous cars. It's the middle levels that worry insurers, as there are concerns drivers may not be fully aware of when to take back control from the car. Most manufacturers now offer some form of autonomy as part of their line-up.
• Autonomous car levels: the steps to your car driving itself explained
The paper suggests that manufacturers start clearly labelling different levels of autonomy in their cars and explain the differences to drivers. It's also calling on regulators to consider new design standards for autonomous and semi-autonomous vehicles. The insurance industry also wants instant access to the car's data following incidents to determine whether the driver or the vehicle was liable for the accident.
Peter Shaw, CEO of Thatcham Research said: "Vehicles with intermediate systems that offer assisted driving still require immediate driver intervention if the car cannot deal with a situation. Systems like these are fast emerging and unless clearly regulated, could convince drivers that their car is more capable than it actually is. This risk of autonomous ambiguity could result in a short term increase in crashes."
• Tesla hits back at German regulators who say 'Autopilot' is misleading
Shaw added: "Vehicle manufacturers should be judicious in badging and marketing such systems, avoiding terms which could be misinterpreted as denoting full autonomy. Hybrid systems which creep into the intermediate grey area between Assisted and Automated should also be avoided."
James Dalton, director of general insurance policy at ABI said: "The insurance industry strongly supports the development of automated driving technology – which we see as the logical conclusion to work over several decades to reduce the numbers of people killed or seriously injured on the roads.
"However, we know all too well from conventional vehicles that drivers often misunderstand what their vehicles can and can't do. Therefore, consistent standards are needed so that those taking up automated driving technology can do so with confidence."
Do you know the differences between all of the different levels of autonomy? Tell us in the comments below...