Used car market posts robust 2017 figures as EV sales surge
Over 8.1 million second-hand cars changed hands last year, with used electric car sales surging by 77 per cent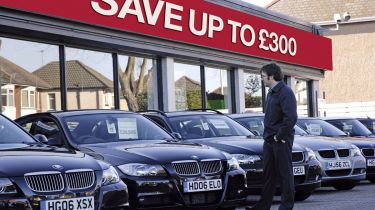 The UK's used car market remained in rude health last year, with 8.1 million second-hand models changing hands in 2017. That represents a drop of just 1.1 per cent on 2016 and is a marked contrast to the new car market, which was down 5.7 per cent over the same period.
The figures, released by the Society of Motor Manufacturers and Traders (SMMT) and sourced from DVLA records, also show a huge increase in the popularity of used electric cars. These saw a 77.1 per cent increase in demand, with 10,199 second-hand EVs being bought in 2017.
• Best used cars to buy in 2017
And while vendors experienced a 5.1 per cent fall in sales in the final quarter, this wasn't enough to stop 2017 being the second best year on record for used car sales, topped only by 2016.
In addition to the growing popularity of electric cars, sales of second-hand hybrids were up by 22.2 per cent in 2017. The market for used diesels, meanwhile, actually rose by 3.3 per cent in 2017, an opposite trend to last year's new car sales figures, which showed a drop in diesel demand of roughly 17 per cent.
Used SUVs also rode high in 2017 with a 9.5 per cent increase in sales, while the popularity of superminis rose by 4.3 per cent. The news wasn't all good though as, aside from a fractional increase (0.02 per cent) in the second-hand executive car market, all other used segments experienced a drop in popularity.
The South East of England saw the greatest proportion of used cars changing hands, with 1.2 million used cars sold there last year. Silver was the most popular colour on the second-hand market.
Commenting on the figures, Mike Hawes, chief executive of the SMMT said: "While such healthy demand is reassuring, to keep it that way and accelerate renewal throughout the fleet – the fastest way to improve air quality – government must now restore confidence to the new car sector.
"Given the recent economic and fiscal uncertainty, particularly over diesel, consumers and businesses need clarity to encourage them to move out of their older vehicles and into newer, lower emission cars – whatever their fuel type."
Now check out our 2017 Used Car Awards winners...