UK car sales fall 5.7% in 2017: petrol sales and CO2 rise as buyers ditch diesel
A sharp fall in new diesel cars sales has driven up the UK's average CO2 emissions for the first time since records began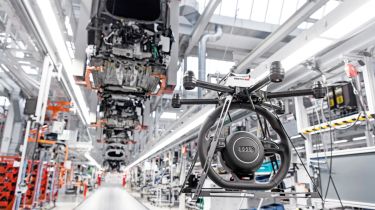 The average CO2 emissions of cars sold in the UK rose for the first time in two decades in 2017, thanks to plummeting sales of diesel vehicles, it has been announced.
Official figures released by the Society for Motor Manufacturers and Traders this morning will show that the UK new car market shrank by around 5.7 per cent in 2017, to 2.54 million registrations. Sales of petrol vehicles actually increased slightly, by 2.7 per cent - but this was more than offset by a drop in diesel registrations of around 17 per cent. December was an even worse month for diesels, in fact, with sales down by 31 per cent year on year.
• Electric cars twice as green as five years ago
As exclusively reported by Auto Express' sister site Buyacar in December, the decline in diesel sales means that for the first time since CO2 records started being published two decades ago, the UK car market's fleet average has gone up instead of down. A preliminary figure from the SMMT obtained by Auto Express suggests that the average CO2 emissions of cars sold in 2017 will be around 121g/km - a rise from 2016's figure of 120.1g/km.
Mike Hawes, the Chief Executive Officer of the SMMT, said the CO2 average figure was "bad for the environment and bad for the country". He called on the government to provide greater support and clarity on the benefits of new diesels for lots of customers - many of whom are said to have "stalled" over upgrading, potentially keeping older, less clean vehicles on the road.
"Diesel is far from dead," Hawes said. "People need to buy the right technology for their lifestyle and in many cases, diesel still represents the best solution for customers. If you're driving a larger D-segment [Mondeo-sized] car and doing reasonable mileage you could save £300-£400 per year by choosing diesel over petrol."
Hawes described the overall drop in UK car sales as "to be expected in a volatile period" - and attributed the fall to not only the diesel issue, but also to a general shortage of consumer confidence in the face of Brexit, and including a surprise general election result.
Sales of alternatively fuelled vehicles continued to rise in 2017, although their share of the market remains small, at just 4.7 per cent. Around 71,000 hybrids were sold in 2017, along with 34,000 plug-in hybrids and just 13,000 pure-electric cars. The SMMT says a mixture of an increased line-up of vehicles, lower prices and improved infrastructure is required if the sales progress of EVs is to continue or accelerate.
Hawes also said that the British car industry needs clarification on a Brexit transition deal by the end of March - and that if this isn't in place, manufacturers are likely to implement "contingency plans", such as temporary warehousing, that could ultimately make the UK a less appealing base for investment and manufacturing.
"Our members are telling us that they really need something by the end of the first quarter - and by something, we mean at least a verbal confirmation from both sides that a transition deal has been agreed, and that it will be in place until a final trade agreement is agreed and implemented," he said.
Have diesel car drivers been unfairly treated in the UK? Let us know what you think of the latest CO2 stats below…