Specialist car brands like McLaren and Aston Martin voice concern over Brexit uncertainty
The sector that includes Aston Martin and McLaren has grown by 52 per cent in the last five years, but Brexit is a big worry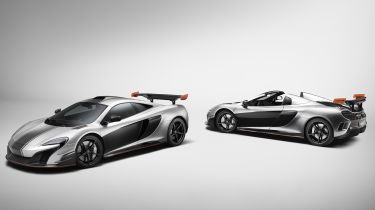 The UK's specialist vehicle manufacturing sector, which includes the likes of Aston Martin, McLaren, and Lotus, has warned that the recent success of the industry could be put to jeopardy were the Government to fail to reach a favourable Brexit deal in the future.
The UK is home to the world's largest specialist vehicle manufacturing sector with over 60 different brands grouped within it. A specialist vehicle provider is classified as one that builds less than 10,000 vehicles annually. New research by the Society of Motor Manufacturers and Traders (SMMT) shows output in the sector has grown by 52 per cent since 2012 and currently employs over 11,250 people.
According to SMMT research, the sector that includes manufacturers like Aston Martin, McLaren, Lotus and Rolls-Royce as well as Caterham, Morgan and Ariel is set to grow by a further 60 per cent to total 52,000 vehicle sales by 2020. But this will only happen if the right trade conditions are established by the UK Government before it leaves the European Union in 2019.
• UK car industry calls for special EU trade deal to avoid Brexit 'cliff edge'
In particular, the sector wants to see globally harmonised product standards as many companies produce a handful of models that are built in the UK but sold globally. The SMMT is also calling for the Government to secure continued membership of the European Customs Union and free access to the single market.
Specialist vehicle manufacturers currently export 65 per cent of their vehicles abroad, with the EU, US, China, the Gulf States and Japan being key markets. The sector also imports roughly 30 per cent of its materials from the EU, meaning any trade tariffs or quotas would probably increase costs.
Mike Hawes, SMMT chief executive said: "Our specialist car manufacturing sector is one of the UK's global success stories – making world-leading products and pioneering next generation technologies that benefit everyone. For this to continue we need certainty on Britain's future trading relationships, including customs plans, market access, regulations governing the design, production and approval of vehicles, and rules around movement of skilled workers. This will provide the assurance the sector needs to remain competitive and make investment decisions that enable it to continue to develop innovative, exciting and desirable products that are the envy of the world."
Mike Flewitt, Chief Executive Officer for McLaren Automotive said: "We believe, therefore, that it is important for the government to maintain a key role in influencing and promoting a fair regulatory framework for small and niche manufacturers wherever we export in the world in order to reduce unnecessary burden and ensure sufficient phase-in periods for any new legislation."
What do you think Brexit will mean for the UK's smaller car manufacturers? Let us know in the comments...