UK car industry calls for a special EU deal to avoid Brexit "cliff edge"
The automotive industry faces falling off a "cliff edge" if a trade deal with the EU is not reached in two years' time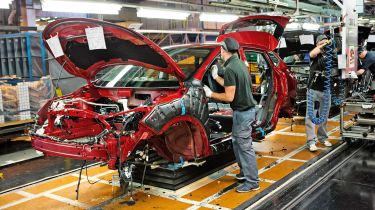 The UK must secure access to the European single market and customs union through a transitional deal to stop the automotive sector falling off a "cliff edge" following the Brexit negotiations, the Society of Motor Manufacturers and Traders (SMMT) has said.
The automotive industry body warned that Brexit poses a threat to the sector and is sceptical that a final trade agreement with the EU will be reached by the March 2019 deadline. The SMMT warned that this could mean that current, tariff-free trade is replaced with trade barriers by the EU, raising the costs of production for UK plants and manufacturers.
• Brexit fall-out could add £2,300 to UK car prices
Previous research has shown that if the UK was unable to reach a trade agreement with the European Union it could fall back on the World Trade Organisation (WTO) regime, where finished cars could face a 10 per cent tariff with components facing a 4.5 per cent fee. According to previous estimates by the SMMT, this could add £1,500 to the price of imported cars.
Instead, the SMMT wants the Government to seek an arrangement with the EU whereby the UK remains in the single market and customs union – securing free trade – until a new relationship is brokered, regardless of the deadline for the negotiations.
Mike Hawes, chief executive of the SMMT, said reaching a trade deal with the EU in two years "cannot be delivered" and has instead called for a transitional deal: "We need a clear interim arrangement – an arrangement enabling 'business as usual' from day one."
• UK car prices and specs guide
Hawes added: "We accept that we are leaving the European Union. But our biggest fear is that, in two years' time, we fall off a cliff edge – no deal, outside the single market and customs union and trading on inferior World Trade Organisation terms.
"This would undermine our competitiveness and our ability to attract the investment that is critical to future growth."
Are you worried about the future of the UK's car industry? Tell us in the comments below...