Watchdog: Shock car hire charge
Credit hire firm refused to downgrade reader's £375-a-day hire car, which would have cost insurance company over £20,000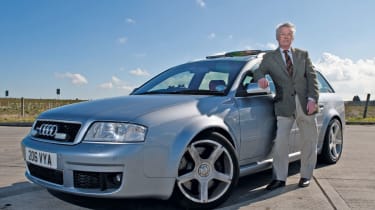 Credit hire companies – the firms that offer loan cars to drivers whose own vehicles have been damaged in a crash – have come in for heavy criticism over the last year. So are they on the side of the motorist or not?
Insurers have accused them of overcharging, and taken them to court to recoup the losses. But last month, a former expert
witness – whose testimony was used in court as evidence that a credit hire company had overcharged – admitted she had falsified the figures she quoted. It led to allegations that faked figures had been used in as many as 20,000 other cases.
Has the industry's reputation been unfairly tarnished? Possibly. However, when you hear of the experiences of people like Alan Jones, from Minster-in-Thanet, Kent, it's hard to have sympathy for credit hire companies. Alan's beloved 2003 Audi RS6 was badly damaged when another driver crashed into the back of him. Fortunately – or so he thought – he had a number to call. One that he thought was supplied by Audi.
"There was a card in the handbook of my RS6," Alan told us. "It said 'in the event of an accident – call this number'." The number was actually for credit hire firm Accident Exchange.
Alan was soon in a loaned Audi S6. "The paperwork said it was about £375 per day plus VAT," said Alan. "I thought, blimey! That's a lot!" Alan had seen a number of stories where motorists had ended up footing the bill for extortionate hire costs insurers had refused to pay, so he called Accident Exchange and asked if he could be given a smaller car. The answer was no. He was told: "This car is commensurate with yours'."
Alan contacted AXA – the insurer of the driver who had crashed into him – and warned staff about the hire costs in store. AXA offered him a £100-per-day budget to sort out a loan car, which he accepted. He gave Accident Exchange back the S6. "My car was off the road for eight weeks," he said. "It would have cost AXA over £20,000."
The problem
Following an accident, Alan was loaned an Audi S6 by credit hire firm Accident Exchange. But he saw the cost was £375 per day plus VAT.
The response Accident Exchange said it sometimes doesn't have spare small vehicles. It also said the customer is "protected every which way you can imagine".
Legal advice Accepting a car that is more valuable than your own can land you in court, as it did with footballer Darren Bent, who borrowed an Aston DB9 on credit hire while his Mercedes CLS AMG was being repaired.
Our verdict We find it hard to believe that Accident Exchange didn't have anything on its fleet smaller than an Audi S6. It hasn't broken a law, but a case like this doesn't put the credit hire industry in a good light.