Audi S6 review
The S6 looks classy, sounds great and is a likeable car despite not having the most impressive chassis in its class
Find your Audi S6
Offers from our trusted partners on this car and its predecessors...
Or are you looking to sell your car?
Advertisement
The Audi S6 is the mild performance version of the A6 range, bridging the gap between the fast A6 diesels and the ultimate RS6. It marries the spacious, classy and beautifully built A6 cabin with the same brilliant twin-turbo V8 engine as the RS6 and Bentley Continental GT, albeit in a less powerful tune. 
Capable of 0-62mph in as little as 4.4 seconds, thanks to a standard-fit S-tronic dual-clutch gearbox and Quattro-all wheel drive, the S6 has sports car-baiting pace, yet its brilliant engine can also shut off half of its cylinders when cruising to save fuel. As an everyday performance car to use in all weathers, it's hard to fault the S6.
The S6 can be specced as a four-door saloon or the cooler S6 Avant estate, which has a bigger boot than a BMW 5 Series Touring. The wagon doesn't feel at all compromised by its heavier body, and if anything will make the ownership experience more satisfying thanks to its added versatility. However, thanks to a safety-first all-wheel drive set-up and overly light steering, the S6 certainly isn't the go-to choice if you place chassis dynamics above engine entertainment value.
Engines, performance and drive
The S6 is powered by a twin-turbocharged 4.0-litre V8 that's shared with the Bentley Continental GT and Audi RS6. In this guise, it develops 444bhp – exactly the same as the RS4 and RS5, and 30bhp more than the pre-facelift model. It's enough to shove the saloon S6 from rest to 62mph in a scant 4.4 seconds (the Avant takes 4.6) and both will hit a (limited) top speed of 155mph. Twin-turbo torque means the mid-range is just as impressive, and papers over the cracks in the seven-speed gearbox's talents.
While you're accelerating, the engine delivers a smooth rumble then becomes a proper V8 bark in Dynamic mode. It feels fast, though there's a sense it's obviously being restrained from being as fast as the more expensive RS6 – the engine revs out so cleanly it really sounds like it's got more to give.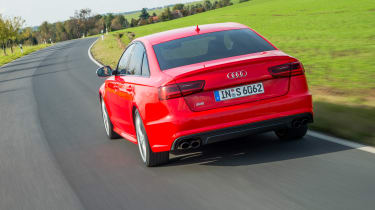 In automatic mode the seven-speed transmission copes perfectly, but in manual mode it doesn't respond to paddleshift pulls quickly enough, so you can accidentally upchange or downchange twice when driving fast if you select a gear just as the ECU changes its mind.
Another flaw is the Audi Drive Select interface, which simply offers far too much choice. There's an Efficiency mode, then Comfort, Auto, Dynamic and Individual which lets you preset and save preferences for the engine, gearbox, ride comfort, steering weight, exhaust noise and sport differential torque response.
It overcomplicates the S6, which is much better when just left in Auto mode. The ride remains astutely controlled unless you select Dynamic mode, which makes it far too harsh for British tarmac.
Whatever you do with the settings, the steering remains fairly light and completely numb and lacking in feel. Add in the ever-present sense of weight in the car's nose and its tendency to understeer at the limit and you've got a car which is happy to be driven briskly, but doesn't really want to engage its driver.
Partnership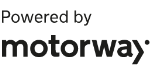 Need to sell your car?
Find your best offer from over 5,000+ dealers. It's that easy.
When you've shelled out so much money for a V8 four-door, that might be disappointing to some. But as an all-weather, all-purpose, leather-lined cruise missile, you just can't fault the S6, despite its sense of humour failure.
MPG, CO2 and Running Costs
Relatively speaking, the S6 isn't too pricey to run, When certain A6 variants will top 69mpg, the S6's 30.7mpg and 216g/km looks pitiful, but that's no mean feat for a 4.0-litre, twin-turbo two-tonne saloon. 
Part of that economy is due to the car's Cylinder on Demand technology, which shuts off fuel injection to four of the eight cylinders when cruising to reduce consumption. The best thing about the system is that you'll never hear it in action, and the moment you plant your right foot all eight pots fire up to deliver the full accelerative thrust. Stop-start is also standard, and has been improved during the car's facelift.
Interior, design and technology
The Audi S6 is one of the very last true Q-cars left on the market. While the RS6 is all pumped-up arches and massive bumpers, the S6 is only distinguished from an Audi A6 S-line via its exclusive 18-inch alloys and four tailpipes. We really like the fact this Audi hides its true performance potential until you blast past other drivers with 444bhp under your right foot.
Inside, the S6 has the good fortune to carry over one of the car world's smartest cabins, from the cooking A6 saloon. You get more supportive seats and cool metal steering wheel paddles to enhance the sporty feel, but as far as fit, finish and quality goes, the S6 is exactly the same as any other new A6, which is to say, excellent.
Practicality, comfort and boot space
Here, we're essentially just talking about an A6 saloon and Avant – the S6 mods do nothing to dent the practicality of this spacious five-seater family car. The saloon has a 530-litre boot which, like the Avant's 565/1,680-litre boot, is bigger than that of a BMW 5 Series and the 5-Series Touring but smaller than the respective Mercedes E-Class rivals.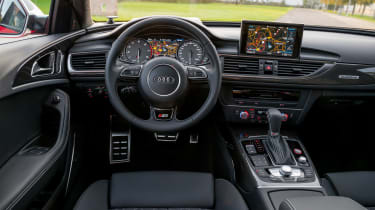 Inside, legroom and headroom are plentiful, but the fact that the Avant's seats don't fold flat and the loading lip stops items being slid in rear-to-front blots the S6's record. Cabin storage is about par for the class.
Audi has a strong recent record in our Driver Power survey. It came 12th out of 33 makers in the 2014 vote – though it did lose to key rivals BMW, Mercedes and Jaguar. The A6 itself, recently facelifted with new lights and bumpers, finished 26th out of 150 cars in the 2014 survey, with owners particular pleased with its refinement and practicality. The S6's engine is a proven unit and should give no cause for complaint.
The Audi A6 scored a five-star Euro NCAP safety rating when it arrived in 2011. Front, rear and side airbags are standard, and you can have infra-red night vision, automatic city braking and radar-guided cruise control plus blind-spot and lane-change warning systems – if you're prepared to shell out for them on the infamously pricey Audi options list.