Audi S6 Avant review
The facelifted S6 Avant now has RS4-matching power underneath its subtle body, but is it worth the money?
The S6 isn't the most interactive performance estate on the market, but it has much to recommend it besides: the subtle looks, potent engine, superb cabin and meaty performance are a great recipe. However, with the RS6 casting a big shadow and the exceptionally fast diesel variants also available, it's sadly destined to be a rare sight on UK roads.
The new Audi S6 Avant looks just as subtle as the old one – there are no RS6-style 'quattro' lettering on the grille and massive wheelarches here. You get the new matrix LED headlights with funky 'scrolling' indicators which flash in the direction you're turning, and some very slightly redrawn bumpers. Four tailpipes and a diffuser-style rear bumper aside, there's really very little to tell the new S6 apart from a diesel S-line model. That's great news, because Audi's just given the S6 even more power, so its Q-car credentials have only swelled.
Behind the even bigger new front grille is a 4.0-litre twin-turbocharged V8, related to the engine used in the Bentley Continental GT and used in a more muscular tune to power the 552bhp RS6 and RS7. Audi has eked the S6 Avant up from 414bhp to an RS4-matching 444bhp, resulting in a 0.3 second improvement in the 0.62mph time, now 4.6 seconds.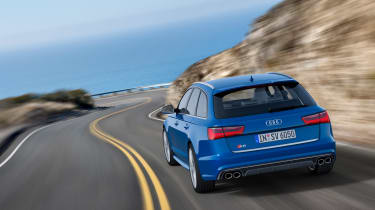 With the seven-speed dual-clutch S-tronic gearboxes shifting crisply, parps from the exhaust on full-throttle upshifts and Quattro-all-wheel-drive supplying the traction, the S6 feels like it'll do those numbers in any conditions you can throw at it. Point-to-point, it's rapid, though you can tell the engine is unstressed and it's not balastically quick – there's a sense of leaving some headroom for the faster RS6.
More reviews
In-depth reviews
Long-term tests
Road tests
If the S6 is the more sensible car, then it ought to be more economical – and it is. This amazing engine boasts 'Cylinder On Demand' technology, which cuts fuel injection to four of the eight cylinders (two in each bank) when the engine is fully warmed through and the car is cruising at moderate speed on part throttle.
It's always been an impressively party piece, and imperceptible when working – and Audi has now managed to raise economy up to 30.1mpg and 219g/km (up from 29.1mpg and 226g/km) - impressive for a car this heavy and powerful. On a run, we saw more realistic economy of around 23mpg.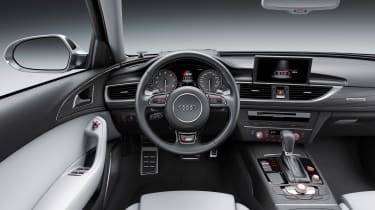 The S6 is at its best when left to its own devices. The cool metal paddles behind the steering wheel feel delightful, but tugging one just as the ECU has decided it's time for a change itself can result in doubled gearchanges, slotting into fifth when you had pulled for fourth.
Meanwhile the Drive Select interface lets you choose from preset modes: Efficiency, Comfort, Auto or Dynamic, or lets you completely mix and match you engine and gearbox response, sports differential behaviour, steering weight, ride comfort and the like in the Individual setting.
Our day of test driving was nowhere near long enough to find the ultimate combination, so we left it in Auto, and found the S6 to be a liveable but ultimately mute performance car. The steering is light and numb, and the variable ratio rack of the Dynamic Steering on our test car is unintuitive on first impression, causing you to take a couple of bites at a corner before finding the desired amount of lock.
But as an effortlessly brisk family estate with a near-1,700-litre boot that makes a delicious noise and feels no more compromised than any other A6, the S6 does still make a case for itself – albeit one that only a few hundred wealthy buyers will go for each year.