Watchdog: Kia acts on owner's YouTube protest
Reader finally gets a fair deal for his faulty Soul, after help from Auto Express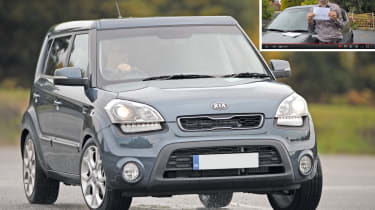 If you can't get a car company to take your complaint seriously, make a YouTube video and get in touch with Auto Express. It may seem like a drastic gesture, but it worked for Dr Mike Baker.
At the beginning of September we reported how Mike had created a Bob Dylan-inspired protest video detailing the problems he'd had with his Kia Soul.
The two-and-a-half-year-old supermini crossover developed a jarring vibration and persistent steering problems that required 20 visits to the garage. Understandably, he wanted shot of it, but Kia was only prepared to contribute £500 towards the £7,600 trade-in cost.
He had stern words for the Korean firm at the end of his video: "My message to Kia is: you can do better for your customers."
We linked to the video on our website and Facebook page, generating thousands of views for the video.
Then we contacted Kia to fight Mike's case, at which point the manufacturer offered him a new deal, which he accepted. Kia has insisted he keep the details secret, which it says is "standard policy" for any financial arrangement.
A Kia spokesman told us it had responded to every issue Mike had raised and would have continued to negotiate with Mike even if he hadn't taken matters further. "We are always prepared to discuss cases with customers and to seek to reach a fair resolution," he added.
Mike said: "I can't thank Auto Express enough. Kia wasn't doing anything until you got involved."
The problem Mike's Kia Soul developed a jarring vibration soon after he bought it. Nothing his dealer did seemed to permanently fix it, and the steering went wrong.
Kia's response Kia offered Mike only £500 towards the £7,600 cost of trading in his Soul. However, after we got involved, it came back with a second offer.
Legal advice You're within your rights to reject a faulty car. But if it's a couple of years old with a few thousand miles on the clock, that will be hard to do. Mike was sensible to negotiate a trade-in with Kia.
Our verdict It's impossible to say whether Kia would have made a fair offer if Mike hadn't posted his video on YouTube or contacted Auto Express. Either way, well done Mike for the best complaint we've seen all year.
Do you have a motoring problem that needs investigating? We're here to help… E-mail mail@autoexpress.co.uk or Tweet us @AutoExpress.