Watchdog: Refund row over insurance policy
Our reader is offered just £10 of the £250 he paid to insure his Volkswagen Golf, after cancelling his policy early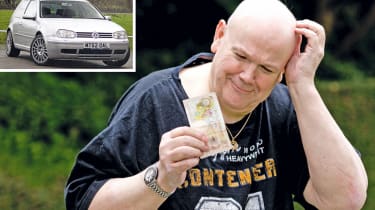 After deciding the time had come to sell his Volkswagen Golf GTI, David Cowap was hoping for a useful refund from broker Adrian Flux given he was only four months into his insurance policy.
But David, from Liverpool, was told by the company that he was entitled to just £10 of the £250 that he had originally paid for his policy.
"I'm not stupid enough to expect to get the full £250 back," he told us. "I'm accepting a penalty. I understand the insurer has to take some money, but I should get more than £10 back."
Most insurance companies will give a full refund if a policy is cancelled within the first 14 days, subject to a cancellation fee. But once you get past this time period, the amount you can expect to receive gets more complicated.
We spoke to Adrian Flux about its cancellation procedures. "If a policy is cancelled in the first year, then it is subject to higher short-term rates," a spokesman said. "This is due to the cost to the insurance company of setting up the policy, doing a quote and all the admin involved."
He also explained that if an Adrian Flux policy was cancelled in the first month, customers were entitled to a 70 per cent refund. This then drops by 10 per cent per month, down to 40 per cent in the fourth month.
After this, customers are not entitled to any refund, and the spokesman claimed that David was fortunate to be offered even £10. But a spokesman from the AA said: "All insurers should, as a general principle, give a refund on a pro-rata basis."
He did warn, however, that car owners should check the small print of their policies if they want to cancel early.
After contacting Auto Express, David soon got a phone call from the company to offer him £62. However, he believed that this still wasn't good enough and after pushing further, he was finally offered £92, with the company agreeing to waive its cancellation fee and commission as a broker.
David's case: At-a-glance
The problem David wanted to cancel his insurance early after selling his car. But after paying £250 for an annual policy, he was offered only £10 after four months.
Insurer's response Adrian Flux says it was giving David more than he was entitled to with the £10 refund. But after David complained, the company finally upped its offer.
Legal advice Not all insurance companies have a pro-rata-based refund policy. So it's always worthwhile making sure you ask an insurer what you are going to be entitled to if you cancel early before buying a policy.
Our verdict Leaving customers feeling short-changed on refunds is poor customer service. Adrian Flux came good in the end, but we recommend motorists steer clear of any insurer that doesn't offer a pro-rata refund policy.
Do you have a motoring problem that needs investigating? We're here to help… E-mail mail@autoexpress.co.uk or Tweet us @AutoExpress.