Major rise in car hacking thefts
Nearly half of the 21,000 car thefts in London in 2013 were down to electronic hacking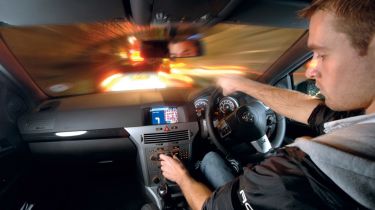 Electronic car hacking was responsible for almost half of the vehicle thefts in London last year, the Metropolitan Police has confirmed.
The new wave of car crime means thieves no longer have to smash a window or break a lock to steal a car, and can instead programme a device in just 10 seconds to unlock a vehicle.
Gadgets, available online, can fool the car into thinking a smart key is present or be plugged directly into the ECU to create a blank key.
The Metropolitan Police said 47 per cent of the 21,000 thefts in the capital in 2013 were as a result of this method. One of the few ways to combat the problem is to install a Thatcham-certified tracking system which operates separately to the targeted ECUs and allows the car to be tracked and recovered by police.
Predictably, high-end cars were most targeted by thieves last year and the average value of cars stolen and recovered was £40,000 in 2013, which was up £6,000 from the previous year.
Mike Briggs, Thatcham's security research manager, said: "Car makers are very focused on addressing this issue and we know that progress has been made over the past two years."
• UK's worst-kept cars revealed
£12 tool can hack your car
Hackers could soon be using a homemade device costing just £12 to take control of your car.
The gadget, which is smaller than a mobile phone, can be used by the hackers to control things such as lights, locks, steering and brake, according to the creators.
Called the CAN Haking Tool (CHT), the device has to be fitted to a car's Controller Area Network (CAN) in order to work. That means anyone attempting to fit it would need some time inside a victim's car before they can do anything.
Two Spanish security researchers made the device, with one of the makers claiming that it can take just five minutes to hook up and that they can trigger it to do whatever they wanted.
• Citroen gives hints at future models
The kit apparently works through a simple 60p computer chip bypassing an encryption on the car before reading and writing data from the flash memory on the car's ECU.
The device can be controlled remotely, and according to reports hackers can then use any command they want to program an action via the CHT. This includes things such as deploying airbags, enabling the alarm or locking the doors.
This isn't the first time motorists have been warned of potential car hacking. At the 2014 Consumer Electronics Show (CES) in January, tech company Harman warned that an increasing number of cars are at risk from computer hackers because of the advanced Internet enabled systems they offer – and the problem could be potentially life-threatening.
• Modern cars at serious risk from computer hackers• Citroen gives hints at future models