Garage labour rates hit record £215 per hour
Average costs across all franchised and non-franchised workshops on the up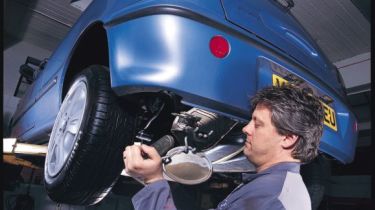 The maximum cost of an hour's labour at a mechanic's workshop has hit a new record figure of £215, according to Warranty Direct's annual labour rates study.
Overall the cost of the the UK's average labour rate, for main and non-franchised dealers combined, currently sits at £74.33.
• Speeding motorists could face £10,000 fines
The study, which looked at more than 10,000 cases, found that London is the most expensive place to fix a car, at an average £91.99 an hour - a three per cent rise on 2013. And the priciest £215 bill was also found in the capital at a franchised workshop in West London. This was the highest rate ever recorded in the 11 years that Warranty Direct has been carrying out the study. It also found two other garages that were charging more than £200 per hour for work.
The South East dominated the top ten most expensive regions, with Surrey in second place at £85.83 and Middlesex the third costliest at £85.17. At the other end of the table it was the North of England and Scotland made up the majority of the least expensive places to fix a car.
UK's cheapest garage labour rates
The cheapest average rate was £58.46 per hour in Angus in Scotland. This was followed by East Lothian at £60.28, while County Durham was the third cheapest at £62.45.
Meanwhile, the gap between the cost of the franchised and non-franchised has also closed dramatically. In 2006 the gap was a massive 84 per cent. However, in 2014 that gap had closed to 45 per cent.
Warranty Direct managing director, David Gerrans, said; "The shrinking price difference between main dealers and non-franchised workshops could be due to the increasing popularity of dearer fast-fits and auto centres that seem to be taking business away from less expensive independents, as well as the advent of manufacturer schemes that offer discounts for older cars and help keep the overall franchised rate down."
Do you think the cost of repairing your car is too expensive? Tell us in the comments section below...