Cowboy mechanic clamp-down proposed
Dealer Association wants licensing scheme to clamp down on incompetent car mechanics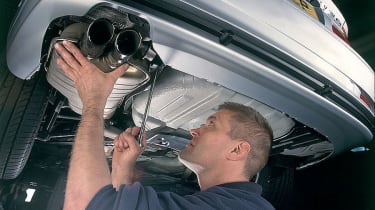 Unskilled mechanics are free to set up shop and repair cars without any training, Auto Express has discovered, prompting calls from some industry bodies for proper licensing of the trade.
The National Franchised Dealer Association (NFDA) said most motorists are unaware that, unlike in many parts of Europe, the UK does not currently regulate entry to this profession. That means unlicensed and poorly trained mechanics could run a garage and repair your car without breaking the law.
• Garage labour rates hit record high
NFDA director Sue Robinson said: "This is a situation that needs to change. Therefore we are calling for tougher, legally enforced minimum standards."
Unskilled mechanics are safety hazards
Trading Standards' Gerry Taylor agreed, saying: "You wouldn't let an unlicensed repairer fix your gas boiler, so why is it okay for an unskilled mechanic to work on your car? They're both safety hazards."
Not everyone wants to see changes made, however. Motor Codes, which handles official industry complaints, argues licensing is unnecessary red tape. A spokesman said: "We echo the Government's view, that self regulation is the most effective way forward."
He added that safety concerns were already regulated by the Driver and Vehicle Standards Agency, which handles vehicle recalls.
• Hybrid car servicing on the up
The Institute of the Motor Industry (IMI), which sets the national occupational and training standards in the automotive sector, says mechanics need to update their skills in line with advancing in-car tech.
An IMI spokesman told us: "Technology in cars has exploded over the past 10 years, so even a mechanic who had proper training a decade ago would now have skills that were out of date."
According to the IMI, some motor manufacturers have already raised concerns about introducing extra training. "VW's lane assist technology uses a radar camera that could be knocked out of alignment during a routine bumper repair," the spokesman said.
"VW technicians check this. But an untrained mechanic might not even realise the technology is there."
Do you think there should be licensing for all mechanics? Let us know in the comments below...