We test revolutionary new pothole repair tech
New process can patch up a pothole in minutes, for a fraction of the usual cost. We find out how it works
The state of the roads in the UK has hit breaking point. Earlier this year, the Asphalt Industry Alliance reported that it would take 12 years and £12billion to clear the backlog of road maintenance in England and Wales. Poor weather and years of neglect meant that our roads were worse than ever before, with potholes, cracking and general deterioration.
One company thinks it could have part of the answer, though, and is being used by councils to fix damage on the rural and C-roads that are vital for farmers as well as residents living in the countryside.
Velocity isn't any old filler of roads; in fact, the company believes that it can fill a pothole quicker and cheaper than anyone else. To put those claims to the test, and find out what's so special about Velocity's work, we joined it as it helped Wiltshire Council catch up on important maintenance...
• TfL claims removing white lines from roads reduces speeds
We meet on a country lane in West Kennett, Wiltshire, a prime example of the kind of hedge-lined road that has fallen into disrepair after 30 years of constant abuse and little attention from road maintenance teams. It may not seem like a key route to be fixing, but it's a vital road for the farms and houses that it leads to. It clearly needs some upkeep, too. There are large potholes in middle sections, while parts of the side of the road have also come away.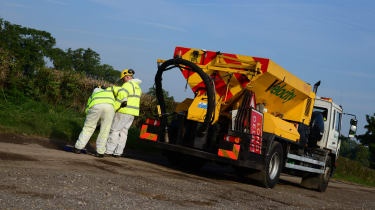 "This road has all sorts of vehicles going up and down it, including large tractors and trailers," Dave Stanbrook, sales manager for Velocity explains.
"The problem is vehicles like tractors are getting bigger and heavier and these kinds of roads were never built to take that kind of wear."
But it's the poor weather that has really taken its toll. Philip Whitehead, portfolio holder for highways in Wiltshire, explains: "We've got a big problem in the county. We look after 2,765 miles of road. Most of that is rural and suffers from hill flooding.
"In winter we normally have around 3,000 reports for potholes per month. This last winter we had around 5,500 reports a month."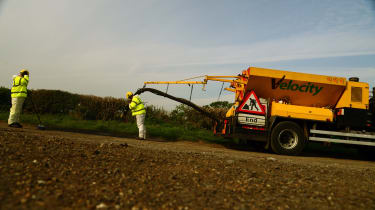 That's where Velocity comes in. Its 18-tonne truck and three-man team begin their work on the damaged road. With one worker driving the truck, another controls a hose connected to it. With this, he starts by using high-velocity air to remove dust and debris from the defect being fixed. A cold emulsion is then forced, at pressure, through the hose into all the cracks and crevices, sealing the hole and protecting it from the ingress of water, which is what often causes potholes.
• Entrepreneur builds private toll road
Finally, an aggregate mix of stones is fired at high velocity through the hose, while being coated with emulsion, and the surface is levelled off. With a sweep and smooth with a compression tool called a Wacker, the job is done – and it's all taken only a matter of minutes. This isn't like the usual repair, with slow-moving wheelbarrows, heating of materials and filling, where it can take hours to sort one pothole.
Partnership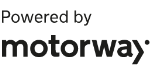 Need to sell your car?
Find your best offer from over 5,000+ dealers. It's that easy.
But what about blocking the narrow lanes Velocity is working on? "You can't just close off rural roads," Whitehead says. Yet that's not a problem here – as the material is straight from the truck and the process is so quick, the team is always on the move. So the council doesn't have to close the road. When a vehicle does appear, the crew simply moves out of the way and then carries on. "You just drop it in and move on," Whitehead adds.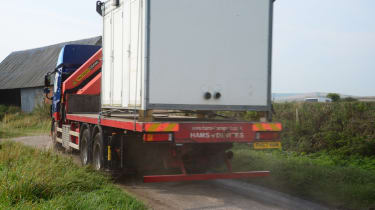 That means vehicles are driving on the fix just after the team has finished. Again, it's not a problem for this latest process. Velocity claims that the repair will instantly take a vehicle of up to 44 tonnes. This seems a bold statement, but when a small lorry heads our way, it's as if it's been planted to demonstrate – it drives over the new patches without leaving a mark.
That speedy process, plus the small amount of material and preparation required, means that the number of defects each team can get to in a day is helping to make a dent in the large number of potholes and problems. "There's enough material in the lorry to do around 150 to 200 defects, depending on their size," Stanbrook tells us.
"If the team is close enough to a depot, it can go and refill, and head back out again to do another 150 to 200." This ability to cover so many defects in such a short space of time is what's impressed Wiltshire Council so much, as it ticks off two to three roads daily.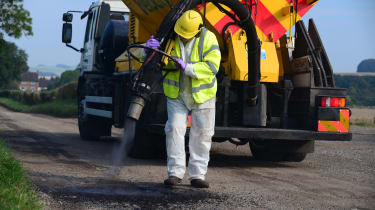 Velocity is quite clear that this isn't a permanent solution to the UK's road damage issues, however. It says that a fix should last between two and three years – although some have been going for longer.
"We can't change the quality of the road," Stanbrook explains. "What we offer is a preservation tool. We try to arrest the deterioration and make it safe."
It may not provide a long-term solution, but Velocity does offer value for money to cash-strapped councils with ever-shrinking budgets. The average cost of filling a pothole is around £55. The same job done by Velocity in much less time is just £18.
That has made it a busy summer for the company after the Government released further funds to help councils fix their roads. "We're working everywhere, from Stirling to Kent," says Stanbrook. "Wiltshire brought in a machine for three months. At one point there was even a second, smaller truck doing work."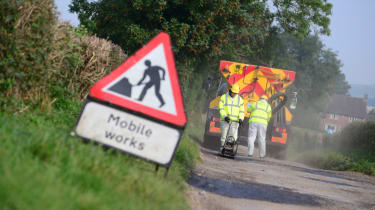 No matter how impressive the system is, there's no getting away from the fact that this is a solution only for rural and C-roads. It can't be used on urban streets as the high-velocity stones will cause damage, while it's too dangerous for using on A and B-roads – plus the damage on these roads is often much greater and requires a full resurface. "This is just one of the tools that can be used by councils," Whitehead says. "This is the first year that we've worked with Velocity, but we're fully expecting to get it back next year."
How does it work?
1. A hose covers hole in emulsion to protect it2. The hole is then filled with aggregate and emulsion mixture3. The new surface is smoothed to make it ready for traffic4. Excess stones are swept away5. The whole repair takes only a few minutes