Government to invest £11million in hydrogen fuel
Business minister announces 15 working hydrogen stations in the UK by 2015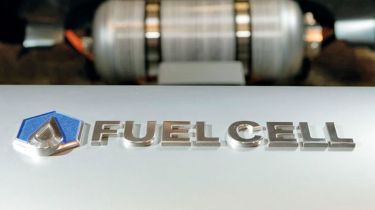 A network of 15 hydrogen filling stations will be in place by the end of 2015 as part of an £11million investment by the Government.
Business minister Matthew Hancock hopes the funding will herald the arrival of hydrogen-fuelled cars onto UK roads and make the country a "global leader" in ultra-low emission vehicles.
The £11m will be part funded by the industry with Toyota announcing that the UK will be one of the first markets to receive its hydrogen fuel cell electric vehicle (FCEV) when it goes on sale next year.
• EU drops target for number of hydrogen stations
The money will be spent on upgrading the six to eight hydrogen fuelling stations that are already operational or under development. These will be taken from demonstrator projects to being usable to the public.
Up to seven new hydrogen refuelling stations will also be built and this will include mobile stations plus integrating hydrogen into existing petrol and diesel forecourts.
As well as the filling stations, £2million has been put aside for funding public sector hydrogen vehicles. The Government wants fleets of around 40 FCEVs to be deployed in certain geographical areas.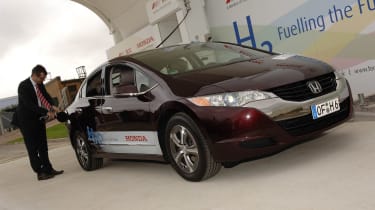 Mr Hancock, who met with bosses at Honda, Nissan and Toyota in Japan, said: "Britain has become one of the best places in the world to build cars, with the value of those we export outstripping imports for the first time in a generation, but we want to go further.
"Hydrogen cars present us with a huge economic opportunity and can bolster our internationally renowned automotive industry. We want to make the UK one of the best places in the world to design, manufacture and sell ultra-low emission vehicles.
"Government will work in true partnership with industry so the potential benefits are realised by businesses and consumers across the UK."
• Diesels causing illegal pollution
The cash injection is just one of the ways that the Government plans to decarbonise road transport, alongside battery electric vehicles and plug-in hybrids - with £400million of support available in the current Parliament and £500million committed in the next.
It follows on from work carried out by the UKH2Mobility project which has created a "roadmap" for the introduction of hydrogen vehicles and the necessary infrastructure in the UK. It identified a network of 65 hydrogen stations needed in the UK.
Transport Minister Baroness Kramer added: "By 2040 all new cars and vans will be ultra-low emission vehicles and this could be delivered by a variety of technologies, including plug-in hybrids, pure EVs and hydrogen. We want to ensure that support is there for all of these vehicles and that the UK continues to lead the pack in providing the right infrastructure to drive the switch to electric."
Diana Raine at Air Products, a supplier of hydrogen fuelling infrastructure in the UK, said:
"We are delighted to see the Government commit to supporting the rollout of hydrogen transport in this way. Hydrogen-powered vehicle technology is proven and ready to be used now. It is not a fuel of the future, it is a fuel for today, and with no emissions at the point of use, it has the potential to de-carbonise the transport sector with little sacrifice to transport performance."