Toyota on course to sell fuel cell cars in 2015
Japanese manufacturer claims that it will be ready to begin selling hydrogen fuel cell vehicles by next year.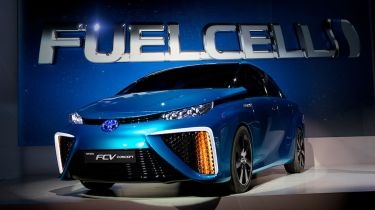 Toyota claims that it will have full production hydrogen fuel cell vehicles on sale by 2015.
While the main focus for the manufacturer at the Geneva Motor Show was the new Aygo, it revealed that all its plans for the new fuel cell cars were on track and would be available to buy next year.
Speaking to Auto Express, Gerald Killmann, european projects director at Toyota, explained that it would be available across all markets by next year. "In 2015 we will bring the fuel cell vehicle to Japanese market, US and Europe." But which countries get it in Europe could depend on infrastructure.
The company expects take-up of fuel cell vehicles to be slow to begin with, but is keen to lead the market for the new technology right from the get-go. Toyota is hoping to emulate the success it had in the early days of hybrid cars, which saw the Prius become a huge international success – although the company aknowledges that infrastructures issues make popularising fuel-cell vehicles a far harder task that it was with hybrid cars.
The first production car to carry the new powertrain is likely to be very similar to the FCV, which was on show at the maker's stand. "The FCV is quite close to what we will launch in 2015. Bodyshape as a sedan, it's clearly visible," he said.
But the new car won't be cheap, with Killman saying that it won't sell for any less than 10million Yen, which works out at around £58,000 at the current exchange rate.
Despite the many stumbling blocks that appear to be in the way, Toyota believes that sales volumes will pick up within the next ten years. "In the 2020s, there will be significant sales, so we will see volumes of 10,000 per year."
Killman also confirmed that the brand was working with BMW on research for the second generation of fuel cell vehicles, but that the FCV was a pure Toyota product.