Police spend £127million on car maintenance
Our exclusive investigation reveals police forces overspending vehicle fleet budgets by millions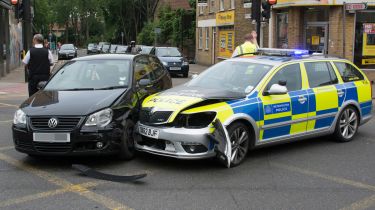 UK police forces have spent £127.5million on maintaining and repairing their vehicle fleets since 2011/12, according to an exclusive Auto Express investigation.
In addition, just three of the forces – City of London, Staffordshire and Devon and Cornwall – were within budget for each of the past three years. In 2013/14, just eight were on budget, too, with the rest overspending by millions.
• Biggest 2013/14 damage bill: West Yorkshire - £1,011,764
The figures were revealed after Auto Express sent Freedom of Information requests to all 43 police forces, with just six unable to provide the relevant data.
Since 2011/12, forces have spent £105.3m on maintenance such as annual services, replacement tyres and other wear and tear items, and a further £22.2m on accident repairs, like new bodywork panels and windscreens.
For 2013/14, the total bill hit a three-year high of £45m with repairs due to accidents reaching £7.3m – up on the previous 12 months. The biggest bill over the three years was the £19m racked up by the authority covering the whole of Northern Ireland.
Many forces use contractors to carry out the work required. For example, the Chiltern Transport Consortium (CTC) is responsible for maintenance on the fleets of Bedfordshire, Hertfordshire and Thames Valley. It's spent £10.3m over the past three years on its 2,277 cars.
• Biggest 2013/14 total bill (maintenance and damage repair): Northern Ireland - £6,674,920
Gloucestershire had the most expensive average bill. It spent £1.7m in 2013/14 on its 457 vehicles – that's an average of £3,722 per car. Nottinghamshire was just behind, spending £3,558 per car.
The costliest repairs are for the BMW X5, with South Yorkshire shelling out £21,267 in one instance this year (see table, bottom).
Police forces do recoup some costs through insurance claims of the at fault driver, but they spend millions on new tyres, as most change a full set well before they reach the 1.6mm legal tread depth limit to ensure they're safe for high-speed chases and wet roads.
| | |
| --- | --- |
| Biggest fleets | |
| Northern Ireland | 3452 |
| Manchester | 1678 |
| Thames Valley | 1342 |
However, the figures don't include the cost of VAT-exempt fuel – this can also run into millions, because of the high mileages traffic officers cover.
We asked the Association of Chief Police Officers why figures were so high and why budgets were being missed by so many forces, but a spokesman said: "The maintenance of police vehicles is a matter for individual forces."
Are UK police forces spending too much on their cars? Let us know your thoughts in the comments below, on Twitter or on Facebook.