Injury claims fall cuts insurance premiums
Experts say legal changes have cut third-party insurance claims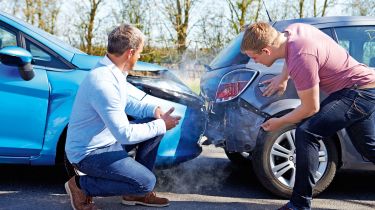 Third-party injury claims have fallen for the first time in a decade, and could be helping to lower insurance costs, according to new research by the Institute and Faculty of Actuaries (IFoA).
The organisation has put the drop in insurance claims down to legal changes in 2013 filtering through, as well as a reduction in the number of claims-management companies.
• Only a quarter of road tax is spent on roads
In 2013, the Legal Aid, Sentencing and Punishment of Offenders Act (LASPO) introduced a ban on referral fees. These had often been used to encourage the take-up of claims. The act also ensured a reduction of third-party legal costs, which can be recovered as part of a third-party injury claim.
This report is the first to include these recent changes, and the IFoA found that they'd helped bring about a 10 per cent reduction in the number of third-party motor insurance injury claims. This has resulted in income from claims falling by 33 per cent from £354million to £238m. The average income per claimant dropped from £5,000 to £4,750, while the number of claims-management companies fell by 35 per cent.
• Range Rover owners refused insurance due to theft
However, the IFoA warned there's still a correlation between the regions with the highest volume of these companies and the frequency of third-party claims.
David Brown, one of the authors of the IFoA report, said: "Legal changes in 2013 – most significantly LASPO – seem to have had a major impact on motor insurance injury claims. However, we remain uncertain as to what their final impact will be, as well as that of other legal changes such as the upcoming whiplash reforms."
Brown also claimed that the impact of the changes had been anticipated by the insurance industry, and that in the year end to March 2014 prices had fallen by 19 per cent.
Where tops injury claim table?
Table below shows worst areas in England, Wales and Scotland based on third-party motor insurance injury (TPI) claim frequency relative to population density:
| | |
| --- | --- |
| Location | TPI frequency |
| 1. East London | 2.39% |
| 2. North West London | 2.31% |
| 3. Southall, Middlesex | 2.31% |
| 4. Ilford, Essex | 2.26% |
| 5. Harrow, Middlesex | 2.22% |
| 6. North London | 2.20% |
| 7. Liverpool | 2.03% |
| 8. Manchester | 2.00% |
| 9. Oldham, Lancs | 1.98% |
| 10. South East London | 1.91% |