Fuel costs at four-year low and Government demands more cuts
Oil suppliers to be told by Treasury to pass on savings to drivers at the pumps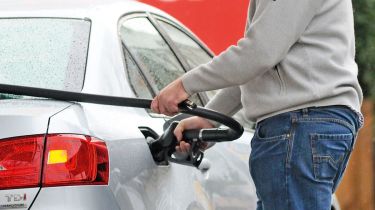 The cost of fuel has hit a four-year low, with prices now below what drivers were paying before the VAT increase in 2011. That's not enough for the the Government, however, with the Treasury set to demand that fuel suppliers go even further in the run-up to the General Election.
Chief Secretary of the Treasury Danny Alexander believes oil suppliers must pass on savings to consumers rather than keeping extra profits for themselves. Oil has fallen from about $115 (£72) per barrel in June down to around $84 (£52) per barrel now.
According to AA figures, the average price of petrol across the UK is 124.93p a litre – that's less than the 125.19p registered in January 2011 before VAT went up to 20 per cent. Diesel prices now average 129.15p a litre, compared to 129.30p in 2011.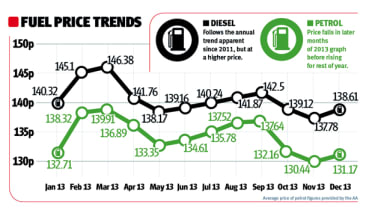 Since 2011 there's been an annual trend, with prices falling in October and November before rising later and often peaking in summer. Our graph above shows data for 2013, when prices rose in March and August before dropping off in winter.
This suggests motorists might expect prices to remain low only for the next few months, before rising next year. But the AA suggested 2015 may buck the trend, with a 4.5p saving yet to filter through to the consumer from wholesale fuel prices.
And Alexander will demand in a speech to the Highlands & Islands Branch of The Energy Institute in Aberdeen that suppliers pass on this saving and put an end to the feather and stone effect where prices at the pump rise  "like a rocket" when the cost of oil goes up but fall slowly when oil values go down.
• Hyundai and Kia in record fuel economy settlement
In 2014, petrol costs have fluctuated by nearly 7p a litre. The current low price represents a saving of £3.74 when filling up a 55-litre tank, compared to the summer high of 131.7p a litre. The UK uses around 1.5 billion litres of petrol a month, so motorists are saving more than £100million monthly.
However, the AA warned prices can spike as easily as they've fallen. Head of roads policy Paul Watters added: "Before everyone gets carried away, commodities that crash one month can correct themselves or shoot up the next – such is the influence of commodity market speculation. "UK petrol sales slumped to 1.46 billion litres – down 3.8 per cent on the same period last year. The road to recovery is still rocky." 
Drivers told us that lower fuel prices will be a General Election vote winner. Read more.