Road closures cost us £1bn last year
England saw more than 500k road closures in 2014 at an estimated cost of one billion Pounds. Safety chief calls for action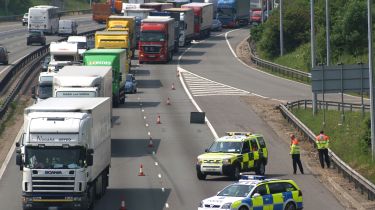 Wild animals, unsupervised children, wandering pedestrians and crumbling roads were just some of the reasons for motorway and A-road lane closures in 2014.
In total, there were nearly half a million cases where a live lane had to be shut down, with 44 different reasons given by Highways England in figures revealed to the Institute of Advanced Motorists (IAM). The most common was a broken down car, accounting for almost half of the 443,590 lane closures.
• Real world MPG tests still 5 years away
Pedestrians wandering on to live lanes accounted for 12,759 closures – three per cent of all incidents. In addition, 122 unsupervised children were reported.
Animals loose on the roads – including swans, deer, horses and cattle – caused almost 4,000 closures, and a further 567 drivers stopped traffic by driving on the wrong side of the road. There were also 856 attempted suicides that required action, the figures revealed.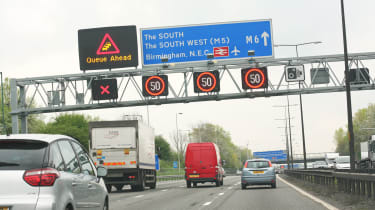 Sarah Sillars, the IAM's chief executive officer, said it was "unacceptable" that 5,700 closures were due to potholes and showed the vast investment needed in roads across the country. She added: "This is not something England can be proud of."
Other more common reasons for shutting a lane included planned roadworks – where Highways England acted ahead of the work – and administrative checks performed by police, including reports of erratic driving and potentially unroadworthy cars. The closures – and resulting delays – cost the UK economy an estimated £1billion.
Sillars concluded: "It shows people do not treat our key economic arteries with the respect they deserve. Pedestrians, unsupervised children and objects thrown on the road should never be happening. "An education and awareness campaign starting at school age is badly needed."
Main reasons for UK road closures in 2014
| | | |
| --- | --- | --- |
| Incident | Number | Percentage of total |
| Breakdown | 185,457 | 41 per cent |
| Planned roadworks | 61,587 | 14 per cent |
| Obstruction – other | 36,042 | 8 per cent |
| Road traffic collision – no injury | 29,656 | 7 per cent |
| Administration (e.g. police checks) | 23,705 | 5 per cent |
What can be done to prevent road closures in the UK? Give us your thoughts in te comments section below...